The Extravagant Dubai Shopping Experience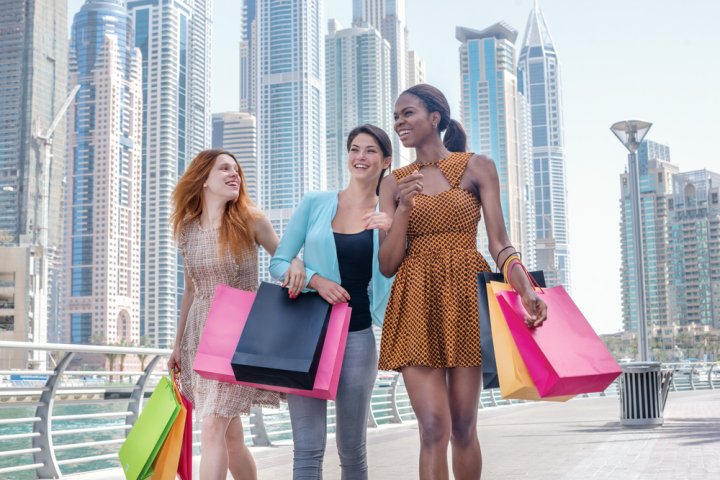 Dubai is often considered the mother of all shopping festivals and has made headlines globally for its glamour and grandiosity. The city boasts of numerous malls, open-air markets, and souks that are collectively so unique to the region, a mix of traditional and modern. It is also home to the biggest mall in the world, which shows you how much the city is dedicated to catering to its consumers. The shopping experience in Dubai is unparalleled from the promotions to discounts and raffles with extravagant winnings, you can feel the energy brimming. The peak of the shopping festival is held in the UAE winter season, which is in January and February. It is highly recommended to visit Dubai during those times.
What to Buy in Dubai?
Pashmina Shawls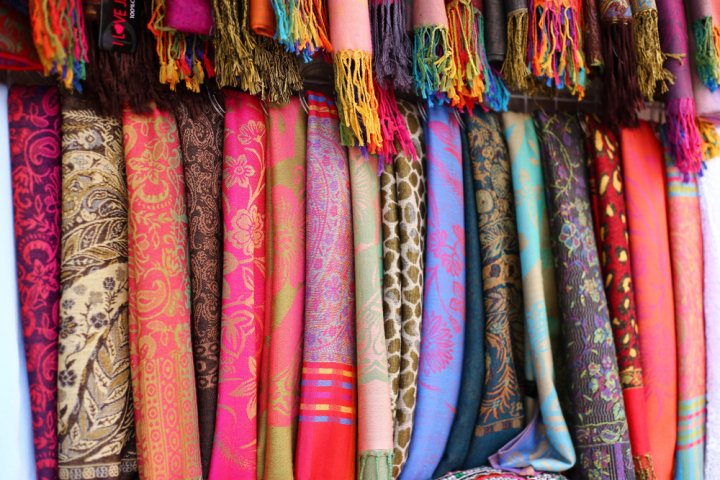 One great buy in Dubai is pashmina shawls, which are known to be quite pricey. Pashmina shawls are handmade from some of the finest wool on the planet and have intricate tiny details that make them an expensive buy but a gorgeous addition to your attire. You can also gift your loved ones this beautiful shawl. While the shawls are quite pricey, there are cheaper imitations of pashminas that are made in the typical style of pashmina shawls and also look quite beautiful. Still, these are made of inferior wool and will often be blended with viscose materials. Hence they may look glamorous but will not be as soft and warm as an authentic pashmina. One way of differentiating is the ring test, but a more reliable test is the smell of a piece of thread from the pashmina that is burnt, it should smell like burnt hair.
Arabic Attars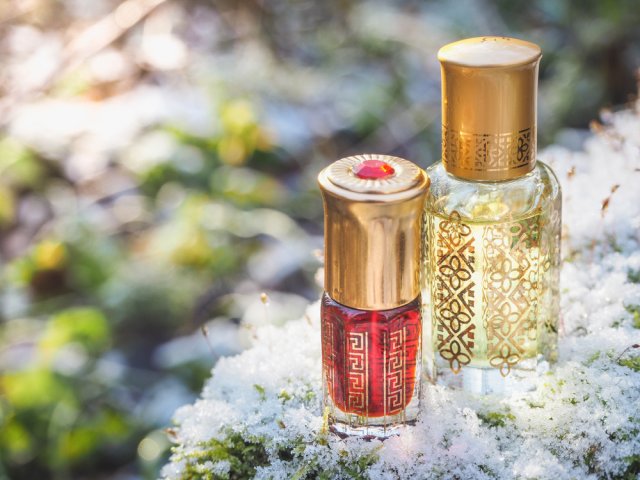 Attars are perfume oils widely used in the middle east. These are aromatic blended oils that are free of alcohol, which makes the fragrance strong and long-lasting. The scent will also be a lot heavier than typical perfumes. While some of the ingredients may be used in contemporary fragrances, they are blended with several other essential oils, unlike attars that have a stronger note dominated by fewer notes.

You can choose to buy blended perfume oil, or if you're familiar with the scents you like, you can make your mix of perfume oils. The attar vendors are experts in creating them and can help with making your concoction. If you aren't a big fan of attars and have specific perfume preferences, it is still worth visiting an attar store as there are selections of brand perfumes at cheaper rates.
Dates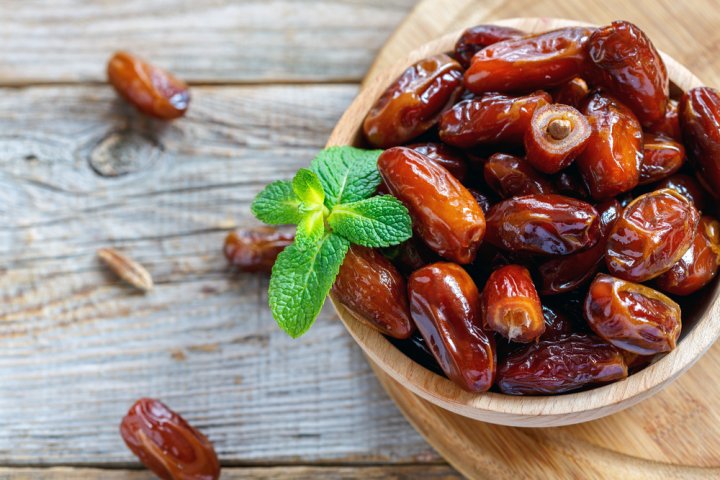 There is nothing more symbolic of Arabian culture than dates, and Dubai is famous for its wide selection. It is not only consumed in the middle east, but everyone enjoys them just as much! Although dates are very sweet, the health benefits are tremendous, so you don't have to feel guilty about eating them. The Dubai market doesn't only sell plain dates; they cooked up creative ways to integrate other flavours to them. Now you can choose from dates coated in chocolates and honey to pitted dates filled with different types of nuts. You can even ask for a sample taste of these varieties to help you know what you prefer. It is an ideal gift to present to family and friends.
Arabic Wear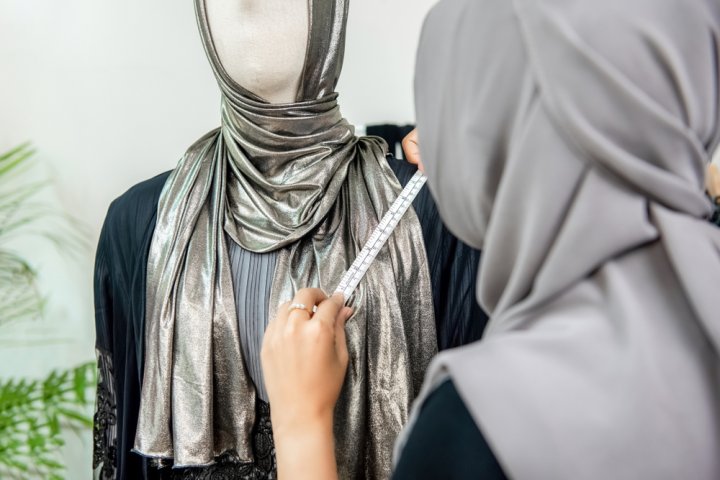 There is an appeal to wearing different cultural attires, and the Emirati cultural wear is one not to miss. The kandura is a long ankle-length white shirt worn by Emirati men while the women wear abayas. Abayas are long black coat like wear that can be plain or decorated with stylish designs. There are also beautiful cultural shoes that go well with Indian cultural clothes. The traditional female shoes are embellished with beads, sequins, and baubles and can add a unique look to your clothing. Male traditional shoes are usually sandals that have threadwork pattern all along. Strut in style with Arabic attire, you won't regret it!
Rugs & Carpets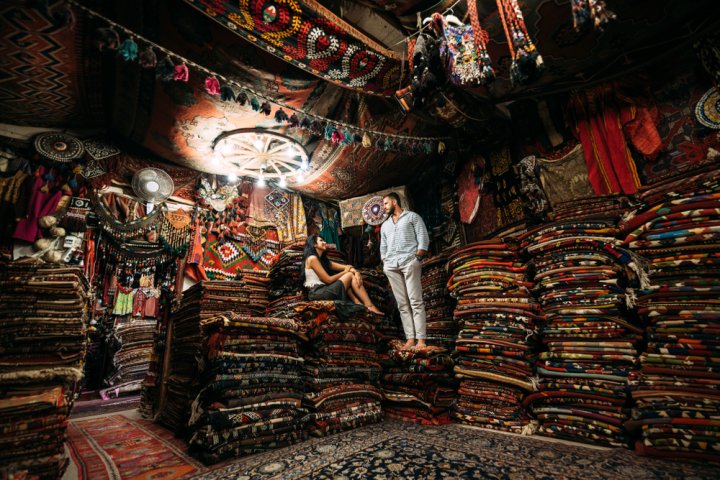 Persian rugs and carpets have the most intricate detail and designs, and they make a beautiful accessory for the home. It is worth getting one since they have proven to be of superior quality, and if you're buying it from a notable place, then you're guaranteed authenticity. However, they can be a bit on the pricey side. Dubai souks though offer an affordable alternative, but they aren't a handwoven carpet. And if it is too much trouble to take big rugs back home, a mouse pad carpet is another option. These are authentic miniature carpet with rubber backing and are usually found in notable carpet shops.
Vintage Souvenirs & Handicrafts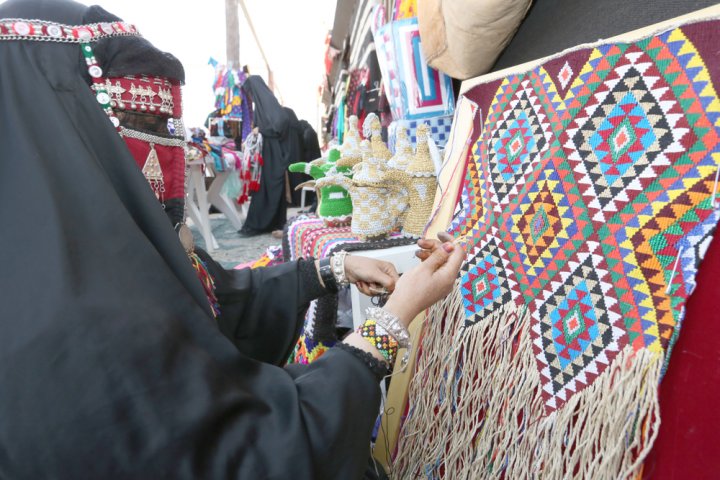 From beautifully carved jewel chests to vintage daggers, you won't run out of choices to gift friends and family. These jewel chests are made from either precious metals or animal bone and decorated with stones; they have a really cool and very traditional vibe. The daggers or what is locally called as khanjars are also intricately carved and designed, and different design depicts a status in society. There are also small bottles with Dubai emblems that are filled with sands from the desert, which can also be souvenirs to friends but also an excellent keepsake of your memories in Dubai.
Buying Gold in Dubai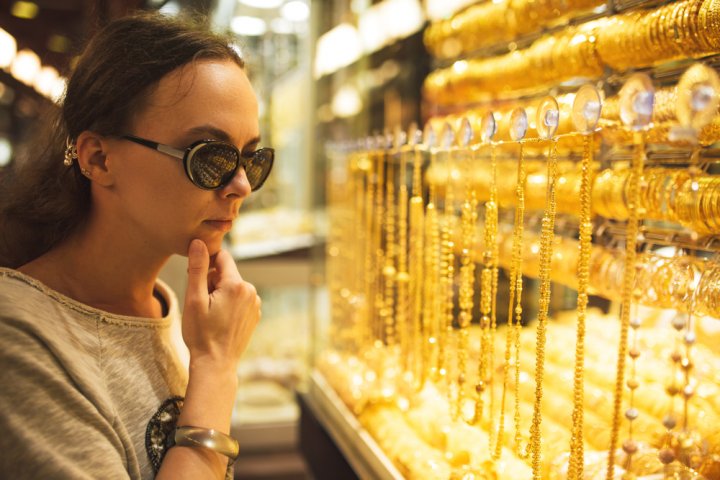 Buying gold in Dubai is popular among the tourists and expert community and for good reasons. The main one being the price and the guaranteed quality of the jewellery. Although Dubai imposes a 5% tax on the sale of gold, it is still considerably cheaper. And also, all gold shops in Dubai are required by law to provide the buying customer with a certificate that specifies the weight of the gold, the karat, and the cost of labour. This certificate is genuine and of value anywhere in the world. So, spend a few days browsing through the gold souk as there are tons of varieties and buy some gold.
The Art of Bargain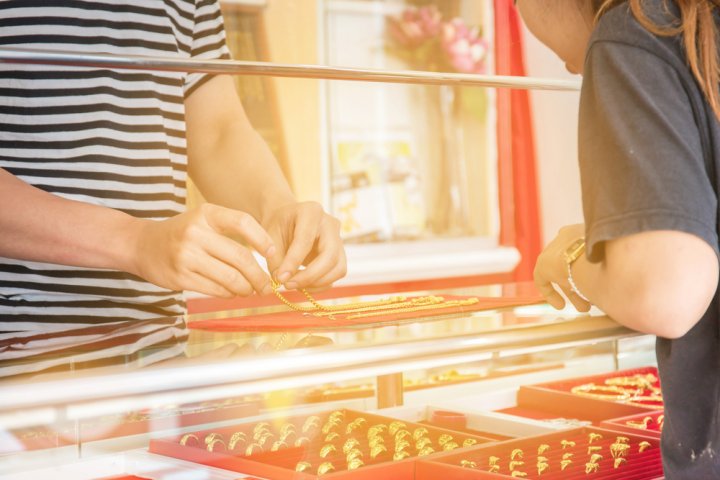 Haggling is a skill that is very handy when you buy gold. All sellers are expecting a bit of haggling, so they name a higher price. The price you are being charged with is based on the daily international rate of gold and the labour of the gold design. While the rate of the gold is fixed, the price of the labour is not and could be negotiated at a lower price. So don't pay for the first price you get, try to haggle for a lesser labour fee.
Don't Settle, Keep Exploring!
It is best to explore the gold markets to get the best deal. Each shop is different from the styles and detail of the gold and how much they charge for the design fee. Shopping for gold shouldn't be a task that is supposed to be completed in one day as the choices and varieties are a lot. You should dedicate a day or two to decide on the perfect gold to take home with you.
Selling Your Old Gold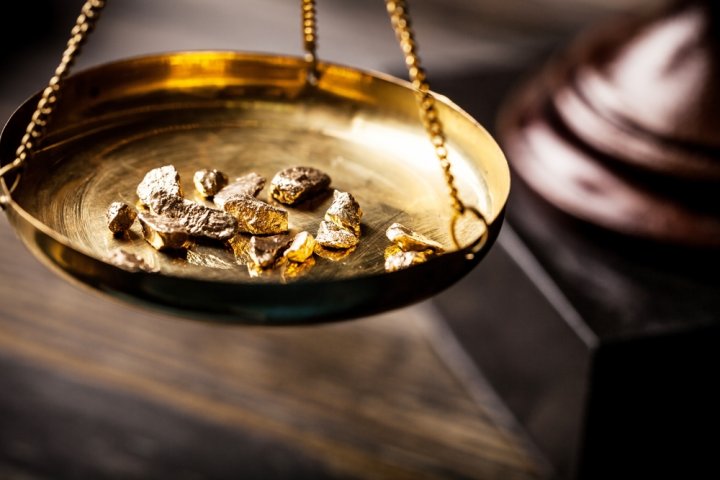 If you're short on cash and want to buy more gold or want to upgrade your old gold collection, some shops are willing to exchange your old one for a bar of new gold. Some are even willing to buy it from you. However, it would be helpful to have a certificate of purchase or receipt of your old gold when trying to sell your gold. This isn't to say that every shop will agree to purchase your gold so don't heavily depend on this method.
Rules & Regulations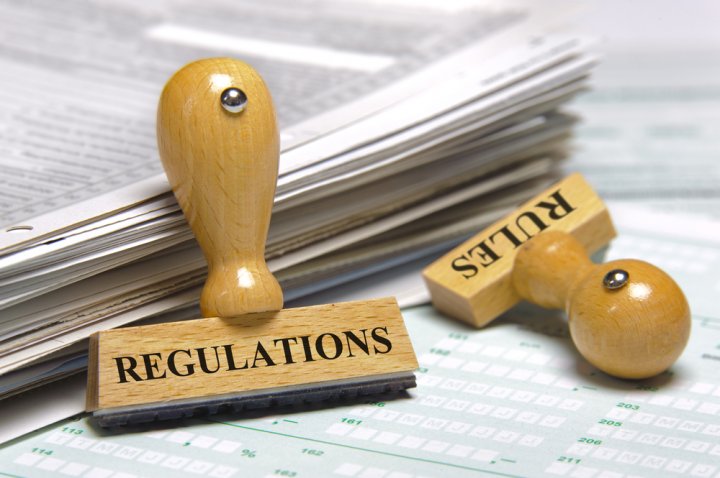 Last but not the least and an essential point to consider are the rules and regulations on bringing gold to your home country. These regulations fluctuate, so it's wise to revise how much you can carry with you back home before purchasing your gold. For Indian travellers, depending on how long your stay in Dubai was, there is a tax payment ranging from 13 to 36%. It is wise to inquire about this tax at the customs at the airport you arrived from.
Buy Duty-Free in Dubai
Most items sold on duty-free are usually smacked with high taxes when sold in regular shops. It is a good idea to consider since some select items have inflated prices. If you have leftover dirhams on you, then why not purchase a few tax-free items while waiting to board your plane.
Chocolates
While there is no crazy tax imposed on chocolates, it surely has made it to the list for being the universal gift to give anyone. If you have a sweet tooth, you'll love the candy stores available. Dubai duty-free boasts plenty of chocolate shops; you have stores that have Arab inspired chocolates, well known western chocolates, and chocolate gift boxes too. It is worth buying whether you want to gift people or you want some for yourself.
High-End Perfumes
Perfumes are best purchased at duty-free as you're guaranteed their authenticity, and they are cheaper. Dubai duty-free stocks many perfume stores that have popular brands. It is recommended you take your time browsing through the different stores and sampling fragrances before making your purchase. If you have a specific scent you want, then this is the best place for a bargain buy!
Cigarettes & Liquor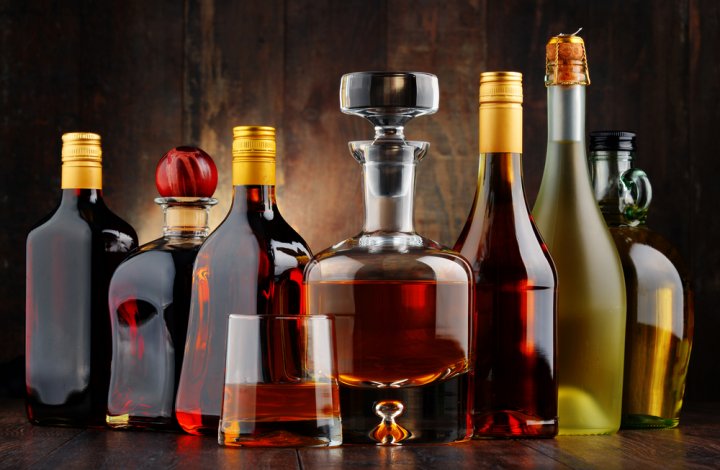 Cigarettes and liquors are by far the most profitable purchase you can make as they are taxed heavily in most countries. Dubai duty-free offers a huge section of cigarette purchasing options, where you can find budget and premium cigarettes at tax-free prices. Likewise, there are several liquor stores available that sell budget to premium liquors. The duty-free section would be the best place to stock up on tobacco and alcohol without denting your wallet.
From our editorial team
Dubai Airport Is a Complete Shopping Destination in Itself!
If you have a few hours to spare before your flight takes off, you can explore your final travel destination in Dubai, Dubai Airport! From delectable chocolates to some of the finest cigars, you can find all types of items that you can take back home with you. The best part about shopping at Dubai Airport is that you can find a lot of duty-free shops here where you can purchase at a much cheaper rate than regular shops.