Why Books Make the Best Gift?
You might be familiar with the philosophy that if you give a man a fish, he will be fed for a day but if you teach the man how to fish, he will be fed for a lifetime. Books are such in the sense that the knowledge they contain is enough to assist you a lifetime. Experience is the best teacher but it is not possible for each one of us to experience everything that this huge world provides. This is where books are important. They encapsulate the experiences of many and we can take knowledge, advice and caution from those experiences second hand by reading those books. Such comprehensive education is bound to make us progressive and competent which in turn will increase the quality of our lives. So books are the best gift because you are not just gifting an object but a key to well being.

Of course, gifts need wrapping! But don't stick to the boring gift wrapping paper that often comes from the stores. Show your personality and show your understanding of the recipient's personality by using a unique wrapping option. We have here a selection of the cute and charming ideas you can try out for your book gift.
7 Gift Wrapping Ideas for Books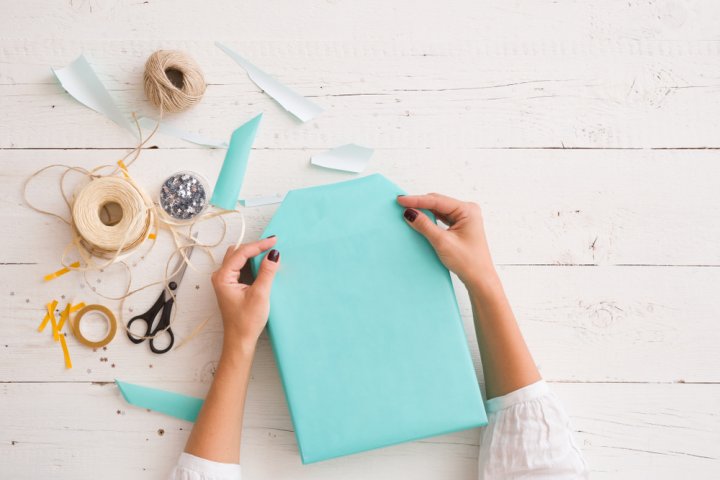 You can always opt for a simple, regular wrapping of your gift but an aesthetic and commendable course of action would be to wrap them creatively. Follow this BP Guide for 7 creative gift wrapping ideas:
Recycled Roses
Books give us valuable knowledge and the most valuable knowledge that books have given us considering the present times is the knowledge of environmental protection. We have learnt that recycling is one potent way of protecting and preserving our biosphere and what better way to respect that knowledge than to practice it. In this gift wrapping idea, you make roses with old newspapers or pamphlets and stick them on the book in a beautiful pattern. Cut long strips of paper and loosely roll each of them to make roses. Wrap the book with some wrapping paper and stick the roses on them in a pattern of your choice. You will save the environment and be unique and creative at the same time.
Photo Decor
A gift is a show of love, affection and friendship so it will not be a bad idea to decorate your gift wrap with a photo showing yourself and the one you are gifting the book to. It will be best if the photo is a candid one. Such a gift wrap decor will be doubly pleasant for the recipient as he/she will receive a wonderful gift as well as the fond memories that photo had captured. Wrap the book in a plain brown paper wrap and stick the photo on one surface of the package. Don't use fancy wrapping paper as you want the photo to be the star of the wrapping.
Simple and Unique with Flowers and Leaves
This gift wrapping idea is simple but unlike any other gift wrapping idea, you have come across. Wrap the book in a brown paper wrap or any solid coloured paper wrap and decorate the front surface by sticking real leaves or small flowers in a row and column pattern. If real leaves and flowers seem messy or odd to you then you can do the same with paint impressions of the leaves. Dip the face of each leaf on paint and stamp the impression on the front surface of the book wrap. You can also use flowers and some vegetables( like okra) for this paint impression.
Handmade Paper and Twine
This way of wrapping a gift imparts a rustic charm to it. Doing it is simple. Buy some handmade paper, wrap the book with it in the usual way and tie twine around it like it is done on parcels which are once horizontally around the package, once vertically and then tying a knot in the middle. Make sure the colours of the twine and hand made paper are not similar and that they compliment each other.
Furoshiki or Cloth Wrapping
Furoshiki is the Japanese method of wrapping gifts in fabric. Using furoshiki to wrap your book will not only make it interesting but unique too. Among all the monotonous paper wraps, there will lie your interesting cloth wrapped gift and will immediately stand out. Place a square-shaped cloth on the table and put the book right in the middle of it. Wrap the cloth in potli style and tie an elaborate knot in the middle.
Go Green
In this gift wrapping method, you wrap your book in a plain or solid coloured paper then attach a leafy twig of some indoor plant diagonally across the front surface. You can do the same with flower stems as well. Such gift wrapping is very soothing to look at.
Map and Wax Seal
This is probably the most attractive gift wrapping idea of all. Sometimes doing too much backfires but sometimes doing too much is exactly what is required. This gift wrapping idea requires a large world map, a seal stamp and some sealing wax. A customised seal stamp bearing your initials can easily be made and seal wax is easily available. So is the map. Wrap the book with the world map using envelope folds. Pour a dollop of seal wax on the place the edges of the folds meet and stamp your initials on it with the sealing wax. The world map wrap is symbolic as you can metaphorically fit the whole world between the covers of books. The seal stamp closure is an added creative touch.
DIY Paper Bag for Gifting
Wrapping your gift in such a beautiful and unique way and then putting it in a plain plastic bag will be such a waste. Instead, let's make a paper bag and decorate it as creatively as we did with the gift wrap. Follow this video which gives a detailed tutorial on how to make a paper bag from scratch. Then proceed to decorate your paper bag in a way that you think is fit for the occasion.




From our editorial team
Consider Doing a Practice
It is always to practice beforehand. You can buy gift wrap and practice wrapping. It is advised to practice with ribbon, too. Make sure you have all tools in your hand when you start wrapping. Always have a proper place for wrapping.