Why Pondicherry Should Be On Your Travel List?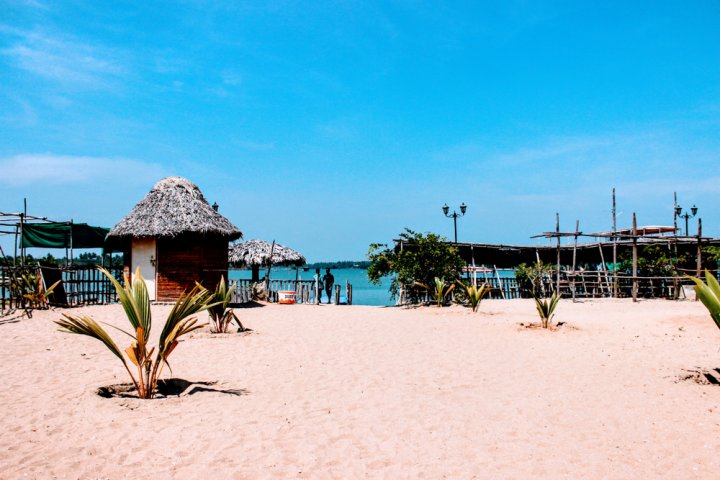 If you want to experience the thrill of France in India then head to Pondicherry. Although the French has left the place a long time back, you can still see their influence all over the place. Pondicherry is situated 160 km south of Chennai, Tamil Nadu, with an area of 492 km. The city is located in the Puducherry district on the southeast coast of India and is surrounded by the state of Tamil Nadu. You can see the French influence in the architecture, You will see the road signs in French and most of the people speak French as well.

Pondicherry is a small place with a distinctive culture and a landscape full of natural beauty, which lets you relax through options like yoga, meditation and other activities. You will get to see beautiful beaches, historical monuments, divine churches and temples all in one place. Being one of the most visited places by the tourists, it is connected to the rest of the country through road, rail and airways. You can reach Pondicherry from Chennai, Delhi, Kolkata, Mumbai, Kanyakumari, Hyderabad etc. You can also take a flight from Hyderabad, Bangalore, Chennai etc to the Pondicherry airport at Lawspet.
10 Best Places to Visit in and Around Pondicherry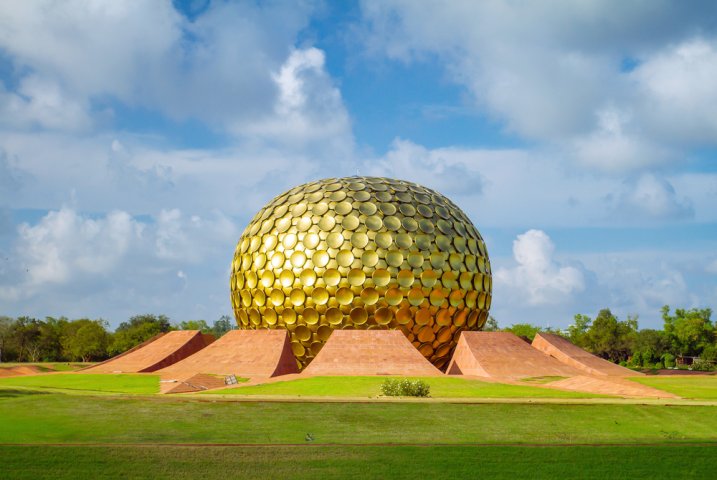 Auroville "The City of Dawn"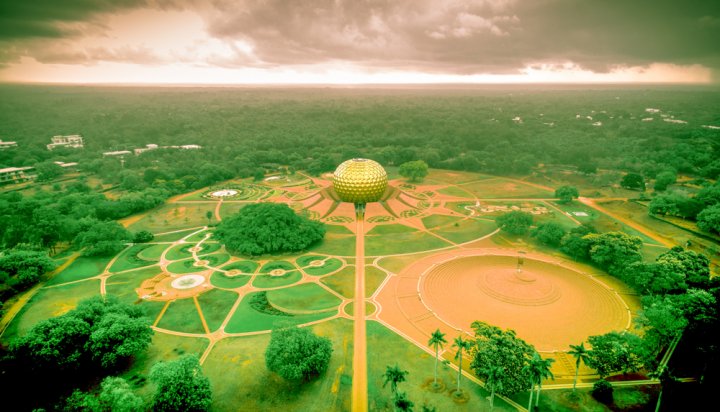 One of the most visited places in Pondicherry is Auroville. It is known as the "Universal Town", it was established as a social experiment bringing together people from 124 countries and 23 Indian states. It is located at a distance of about 15 km from Pondicherry and was founded in 1968 by Mirra Alfassa, a disciple of Aurobindo and fondly known as the 'Mother' of Sri Aurobindo Society.

The purpose of Auroville is to promote unity in human society. More than 2,800 people from 195 nationalities are residents of Auroville and are living on the principles of peace, harmony and divine consciousness. They have transformed a barren land into a great forest, this project was supported by the Government of India and UNESCO recommended it as a "project of importance to the future of humanity" in 1966. Auroville is also known as the "city of dawn". If you want to know more about this magical place you need to sit in one of the cafes here and talk to the residents about it. They are always more than happy to give you details of their vision and their concept of living life differently than others.

It is established in a circle of radius of 1.25 km and the centre is the famous Matrimandir, which is surrounded by beautiful gardens. It is divided into an industrial zone, cultural zone, peace zone and a residential zone. Matrimandir provides you with a perfect place to sit quietly and feel the atmosphere around it. It has a 30 m high globe with a lotus-shaped foundation urn. From inside its white to emphasize the importance of peace, a crystal ball is put in the centre which reflects the sunlight and gives the place a magical effect.

There are several restaurants at Auroville which offer great dishes representing different cultures, you can taste all between the range of fine Italian to traditional South Indian dishes here.

If you wish to visit Auroville, a simple way is to catch a flight to Chennai and then get a cab from there to Auroville. The airport is around 115 km from Auroville. You can also take a bus from Chennai, Tiruvannamalai, Bengaluru or Ooty. The nearest station is at Villupuram with is around 32 km from Auroville. The best time to visit Auroville is between November to March.

Promenade Beach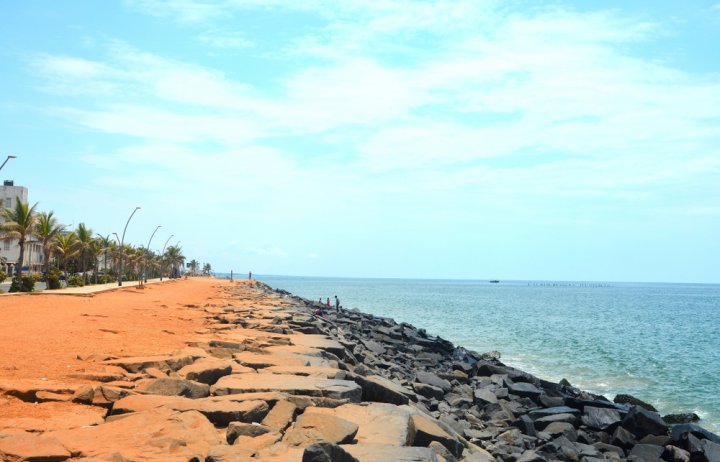 Promenade Beach is a gorgeous beachfront. It is around 1.2 km long and is one of the most visited sites in Pondicherry, which is also due to it being very close to other places like the War Memorial, Dupleix Park, the statue of Joan of Arc, old lighthouse etc. Although Promenade Beach is a beach, it is totally different than other beaches due to a wall of rocks along its shore at the Bay of Bengal. These rocks were stationed there by the Government of Pondicherry to prevent the erosion and subsiding shoreline. You can see these rocks and boulders, as they strangely enhance the beauty of the beach.

Promenade Beach is also known as the Rock Beach or the Gandhi Beach, as it is very close to Mahatma Gandhi statue. There are great restaurants that serve traditional food including great seafood. You can also buy local handicrafts from the hawkers as gifts. You can see the heritage building of the Tourist Information Centre right across the beach, which is of great help for the tourists.

If you want to sit and relax amongst the soothing sounds of the wave then evenings are the best. Once you are here in the evening don't forget to wait for the astonishing sunset while enjoying a great cup of coffee at the Le Cafe. Promenade Beach is only 2 hours' drive from the central railway station of Pondicherry.

The bus station is also around 3.5 km from the beach, therefore it is easy to reach the beach. Since Pondicherry is located on the Coromandel Coast of Bay of Bengal the best seasons to be there are between November to march. If you love water sports then you should head to Promenade Beach between October to May to enjoy it to the most. Promenade Beach is a must-visit for the sake of its beauty and you can experience calmness as you take a quiet stroll along this magnificent rocky beach.

Pondicherry Museum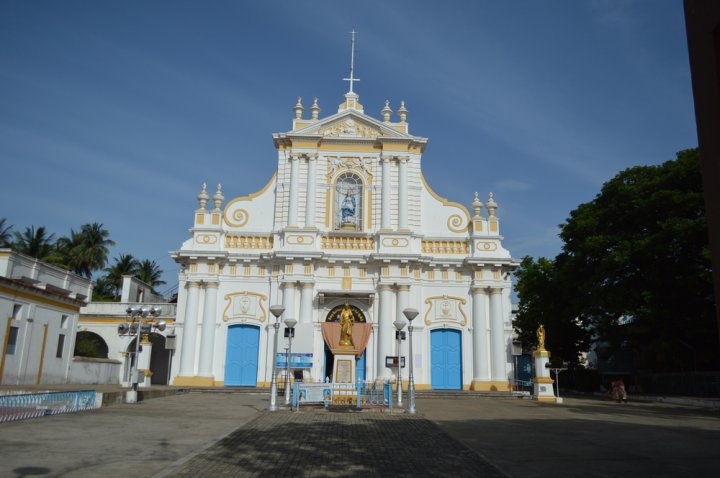 If you are a history lover then you must visit the Pondicherry Museum. It is located in Bharathi Park and is famous for a unique collection of exquisite sculptures. It has a huge gallery of sculptures belonging to the Cholas and Pallavas dynasty and has a vast collection of the remains of archaeological findings from the Arikamedue Roman settlement. You will also get to see the mysterious burial urns, French furniture, exquisite crockery, guns, swords which will take you back into olden times.

The museum also has a great collection of paintings like Tanjore & glass paintings, colonial prints and a collection of mesmerizing bronze statues of various gods and goddesses. The Pondicherry Museum is open every day except for Mondays and national holidays, timings between 10 a.m. to 7 p.m. Once you visit the museum you will feel enlightened by all the information you gather from it. It will prove to be an educational trip for you and your family, especially school going kids.

Don't forget to check out the 3 transport mechanisms - a coach, a palanquin and a pousse-pousse (a rickshaw from earlier times) which needed two men to drive. The Pondicherry Museum is only 3 km away from the bus station and you have to pay Rs. 15/person as an entry ticket to enjoy it thoroughly.

Manakula Vinayagar Temple
If you like to visit beautiful temples then you should see the Manakula Vinayagar Temple in Pondicherry, it was established before the French settled here. The temple's name is taken from two Tamil words: Manal (sand) and Kulam (pond near the sea). It is made on an area over 8000 square feet. It is 18 feet high. It has a gold plated kodikambam which is an eye catcher in the temple. You can see beautiful sculptures of Lord Ganesha in various forms on the walls of the temple.

The temple is dedicated to Lord Ganesha and you can see a beautiful idol of him standing facing towards the east with his consorts Buddhi and Siddhi. The statue of Ganesha stands on a golden chariot which is crafted with teak wood. The chariot was made using 7.5 kg of gold and it is used during the Dussehra procession. You will be amazed to see Lord Ganesha's dancing pose which is called Narthan Ganapathy. Many festivals are celebrated around the year in the temple but the most extravagant is the 24-day long festival known as Brahmothsavam in the month of August/September.

If you want to visit the temple you need to be there between 5:45 a.m to 12:30 p.m. For between 4 p.m. to 9:30 p.m, you can reach the temple by any local transport as it is only 3 km from the Pondicherry bus station.


Jawahar Toy Museum
Travelling with kids to Pondicherry? The Jawahar Toy Museum should be on the top of your list amongst other places to visit in Pondicherry. It is situated 2.5 km from the Pondicherry bus station and is very close to the Old Light House on Goubert Avenue. Don't worry if you are not with your kids. If you still have that child somewhere inside you, rush to the museum to smile and giggle because of the huge collection of toys displayed at the Jawahar Toy Museum. It has a collection of 120 dolls (a dream place for girls of all ages) dressed in traditional dresses of the region. It is considered the rarest museum in the country.

The vision of the museum is to educate people about various cultures and traditions through toys and dolls. You get to see dolls from Bengal, Rajasthan, Punjab, Maharashtra, Gujarat, Kashmir etc. It also has a place which shows a fairyland, with the puppet dolls of the Lord Ganesha.

The Jawahar Toy Museum is open every day except Mondays and National holidays between 10 a.m. to 5 p.m.

Basilica Of Sacred Heart Of Jesus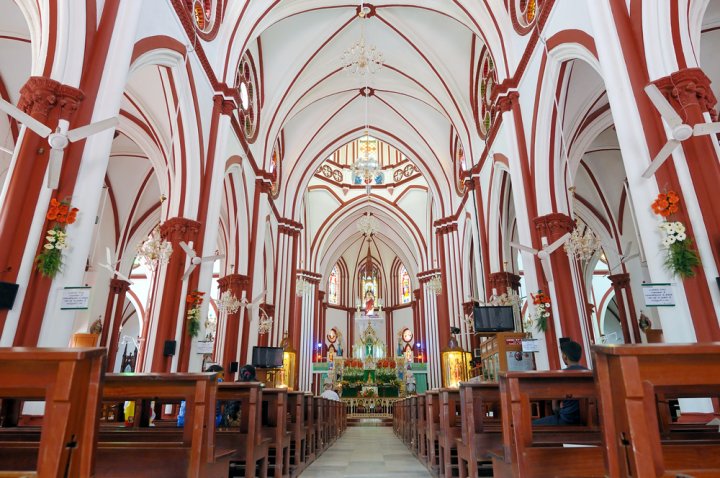 Basilica of Sacred Heart of Jesus is a 100-year-old historic church. It is 50 m long, 48 m wide and 18 m high. It has 24 columns that hold this magnificent structure to its places. This church is an example of Gothic architecture with rare stained-glass panels. They show the events of the life of Jesus and other saints. It is one of the most popular pilgrimage places for Christians. You will feel the presence of Christ as you enter the church and feel the positive energy in the environment.

The beauty of the church is enhanced by the huge structure. The interiors is all done by a combination of colours like moss green, milky white and scarlet. A beautiful statue of Madonna stands tall at the side of the altar draped in a blue sari. You will feel blessed when you sit inside the church and pray to the Lord and feel his presence over you.

The timings for the Mass at the Basilica of The Sacred Heart of Jesus are Monday - Saturday: 5:30 AM, 12:30 PM and 6:00 P.M. On Sunday: 5:30 AM, 7:30 AM, 12:00 PM, 5:00 PM (English), and 6:15 PM (Tamil). It is fairly easy to reach the church as it is situated near to the Pondicherry Train Station and you can easily get local transport to reach there.


Raj Niwas
Raj Niwas is another beautiful place to visit while you are in Pondicherry. It is around 3.5 km from the Bus Station. Raj Niwas is the official residence of the Lieutenant Governor of Puducherry. It was once a palace under French rule and served as the residence of the French Governor Dupleix. It was built in the 18th century, that is why you can see a blend of French and Indian architecture in the building.

It has a beautiful water monument in a well-maintained garden, whereas magnificent wooden pillars surround the courtyard, giving it a grand look. You can also see two cannons on either side of the main gate. Raj Niwas goes a long way back in history when Dumas laid the foundation for a Governor's Palace in 1735. It was completed later in 1765. Initially, it was a single-story building that later transformed into a double storied palace.

The South Gates are the main entrance of Raj Niwas. the Governor's house is the accommodation of personal and VIP guests, The beautifully decorated guest rooms are named after various enclaves like Pondicherry, Karaikal, Mahe and Yanam.

You can visit Raj Niwas only on some national holidays, like Republic Day, but you can see this beauty from outside any day you want. Feel the glorious days it has seen earlier, and the history it has to offer.


Old Light House
You must have seen some massive lighthouses in movies etc but you can see one for yourself here in Pondicherry. This old lighthouse is only 3 km from the Bus Station and is one of the most famous landmarks here. It was built in 1835 and is 29 meters high. It is made on a sandy ground, therefore the foundation of the lighthouse was dug 9 meters for it to stand tall.

The lighthouse started operating in July 1836 after the beacon arrived from France. This Old Light House's strong beam can be seen from 15 miles and the source of light is the six lamps and two reflectors which were later on changed into electric lamps in 1913. Although this lighthouse was closed in 1979 you can still visit it and feel the Goosebumps. It feels like travelling back in history. It features a special appointed place for the watchman, a shop and stairs that will lead you to the top. This lighthouse is now converted into a museum. You can see various carnivals and cultural activities taking place right in front of the lighthouse. It attracts a lot of tourists all year round. It is sure to act as a perfect backdrop for some memorable pictures.

The timings for visiting the lighthouse is between 8 a.m. to 12:30 p.m. and 1:30 PM to 5:30 PM and you pay a nominal amount of Rs. 10 per person as an entry fee to this beautiful place.

Meeran Mosque / Meerapalli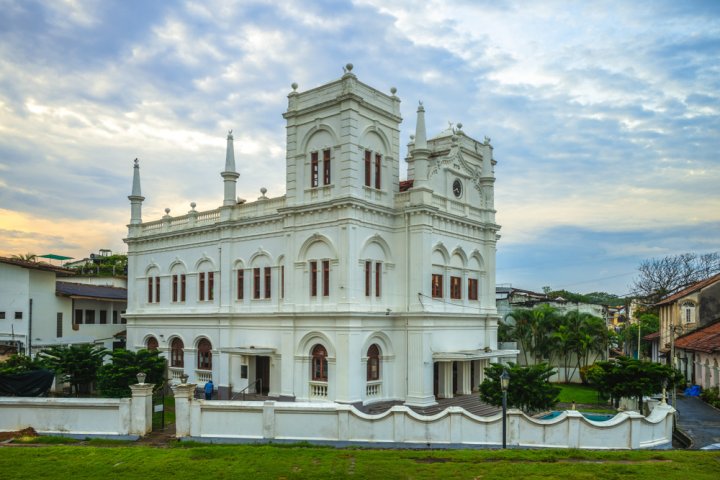 While talking about famous churches and temples let us mention the oldest religious building for the Muslims; the Meeran Mosque/Meerapalli, which is the 2nd oldest mosque in Pondicherry. It was built by the Arcot Nawabs in the 17th century.

A mosque is also a resting place of Meeran, who constructed the mosque. It is built in the old Gothic Islamic symbolic architecture with a beautiful facade minaret of Bronze on the top of it. It is one of the most important pilgrimage sites in the region. You can feel the divinity in the air when you visit this sacred place, the enchanting sound prayers and hymns transport your mind into a spiritual state. People from around the world visit the Meeran Mosque to pay their respect and perform prayers. The mosque is open every day, all year round.
Ousteri Lake / Osudu Lake
Ousteri Lake is a beautiful lake located between Pondicherry and Tamil Nadu at Osudu village. It is known as one of Asia's most important wetlands and is developed into a wildlife sanctuary with water, marsh and mudflats, that spread across 390 hectares of land. You can see more than 40 migratory birds and also some unique species of birds like Painted Stork, Tailor Bird and Spotted Owlets during your visit to this beautiful lake. It is a perfect place to hang out with friends and family. Here you can go for boat rides for Rs. 100/person only and enjoy the calm waters and peaceful environment.

Ousteri Lake is around 10 km from Pondicherry Bus Station. The best time to visit the lake is during the winter season as you get to see a large variety of birds as you enjoy the cool breeze near the water. The lake is open for visitors between 9 a.m. to 5 p.m.
Other Fun Activities to Enjoy in Pondicherry
Apart from a lot of great sightseeing spots, Pondicherry also has a number of fun activities that you can do as a couple or with your family.
Paintball is a fun game you can play in groups; you get to shoot paintball guns on the rival team. The guns, pellets and jackets are provided to you. It's a thrilling game and enjoyed by people of all ages. If you are 4 or more people in a group and ready to have fun with colours and guns you will enjoy this sport immensely. The timings are 9 a.m. to 5:30 p.m.
You can opt for a combo package of activities like Zorbing, Target Shooting, Archery, Rope Course, Zipline, ATV ride and Sling Shot. You get to shoot targets, balance on ropes and enjoy rolling in the zorbing ball. It is a fun filled activity which is loved by all specially kids and young people. You can enjoy these activities between 8:30 a.m. to 6:30 p.m. and is about 20 kms from Pondicherry city centre.
You can hire a vintage bicycle and ride around the city with your friends and enjoy the local sightseeing along the way. You get to ride around the French colonies and other historical places as well.
If you want to have fun with water, ride the ways, you can try surfing on the beaches of Pondicherry. It is one of the most popular and thrilling activities for adrenaline junkies. You pay Rs. 1200 and hit the waves with a surfboard for a memorable and fun day.
You love to shop, head out to the Goubert Market situated opposite to the Police Station. You can buy daily supplies, fresh fruits and flowers, jewellery, clothes, leather goods and anything you can imagine. You can also find great food along the streets of the market. You need to get there in the morning and spend a whole day just strolling around the beautifully decorated shops and enjoy.
If you are the creative type you will love clay modelling at Golden Bridge Pottery Centre. You can learn the basics of pottery and then design your own pottery.
If you are in Pondicherry and don't try scuba diving your trip is incomplete. Pondicherry is the only diving spot on the eastern coast of India. You get to see natural coral reefs, rocky pop-ups and loads of marine life like lionfish, kingfish, moray eels, sea snakes and more. It is organized by Temple Adventures which is a 5-star rated PADI centre. The timings for scuba diving are between 6:30 a.m. to 7:30 p.m. throughout the year and the diving course is for Rs. 9,322.
From our editorial team
Is It Safe to Travel with Children?
Pondicherry is a place that offers true elucidation of tranquillity. Your children might fall in love with the waters of this small Union Territory. Yes, it is a safe place to travel with your kids but only during the daytime. The Sun signs off around 6.30 PM in the evening which signifies that it's time for you to keep a strict check on your children. Do not let them move away from the vision of your eyes. A wiser choice would be to avoid travelling with them near the village areas or during the midst of the nights.