About Norway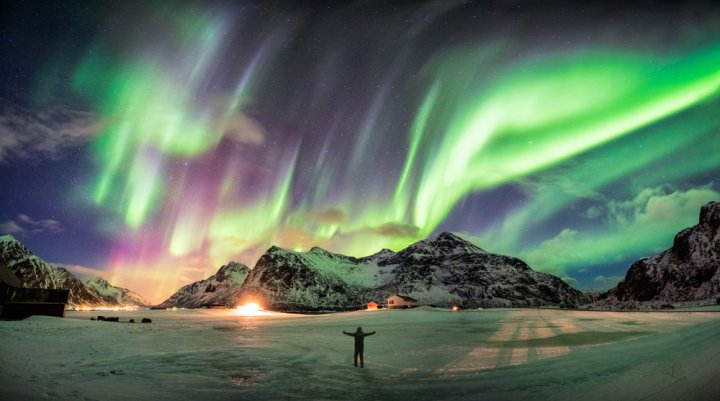 Norway, officially known as the Kingdom of Norway is one of the Nordic Countries located in Northwestern Europe surrounded by mountains, deep glaciers and deep coastal fjords. Spread in an area of 3.85 lakh sq. km and with a population of 5.4 million, Norway shares a large part of its eastern border with Sweden, and Finland and Russia on the north-east. Norway has a vast coastline with North Atlantic Ocean and the Barents Sea surrounding a large part of its border.

Norwegian Krone (NOK) is the currency of Norway and Oslo is the capital Norway. This country occupies the western half of the Scandinavian Peninsula; and about two third of Norway is Mountainous and around its coastline, lay around 50,000 islands. The place is inhabited since 872 AD and was an amalgamation of many small kingdoms. Later, from 1537 to 1814, Norway was a part of the Kingdom of Denmark-Norway and then it was aligned in a personal union with the Kingdom of Sweden. Norway was captured by Germany in 1940 and finally got freedom during the Second World War.

Norway Culture and Food
Norwegian culture has its roots imbibed in Vikings, a group of Scandinavian naval traders, pirates and pioneers that settled in the Northern part of Europe around the eighth century. However, over time; rural culture made its place into the life of local people and the same reflects in the still celebrated folk music and traditional costumes. One of the modern versions of Norway's culture is the Jante Law, which is an important and essential part of modern Norwegian culture and has equality, respect, humility and simplicity as its important pillars. In this Law, flaunting of material means is considered inappropriate, and people are supposed to consider everyone equal and not criticize others. Norwegians celebrate their Constitution Day on May 17; which is also a National Holiday. On the Constitution day; bands, unions, societies, volunteer groups and schools etc. participate in a grand parade on the streets.

Norway being a country surrounded with oceans on two sides and its cold climatic conditions, has to rely a lot on seafood. However, the most popular food is brown cheese thinly sliced and presented with bread. Other popular dishes are whale steak, smoked salmon, and Fiskepudding. Breakfast items are cheese, coffee, milk, yogurt, bread and fish. In Lunch, they prefer an open-faced sandwich with cold meat or cheese, fruits and coffee etc. and boiled potatoes or carrots complemented with fish and meats like chicken, beef, pork or whale is preferred in Lunch.
Best Time to Visit Norway and Budget
Norway is famous for its Midnight Sun phenomenon when for complete 6 months; the sun is visible for 24 hours (21 June to 23 December). Norway is a few of those countries which are crossed by the Arctic Circle like Canada, Finland, Iceland, Sweden, Denmark (Greenland), Russia and Alaska State in the USA. Interestingly, the reverse phenomenon happens when the North Pole is away from the sun for 6 months and during this time, Norway experiences 24 hours night.

The six months of the midnight sun are comparatively hotter as compared to the six months when there is night throughout the 24 hours. But don't expect a warm atmosphere, as Norway is a country with cold climate. However, the early summer months of June and July are the best months to visit, as tourists can enjoy a plethora of activities and visit a lot of places. However, if you are looking for some good hotel deals and want to avoid the visitor's crowd, then May and September are the alternatives as one can still enjoy the outdoor activities in the mild weather.

The Norwegian krone is close to nine dollars and the average cost per day per person to stay in Norway is around $115. This includes staying in an average hotel, 2 times meals, local and intercity transportation, water, entertainment, alcohol and miscellaneous expenses. However, this expense can be reduced by a good margin if a visit in the off-season or near offseason is planned. Also, carry your water bottle and check local shops for economic meals instead of big restaurants. Flight tickets, if booked in advance can be purchased at a cheaper price compared to bookings done at the last moment.
Best 10 Destinations to Visit in Norway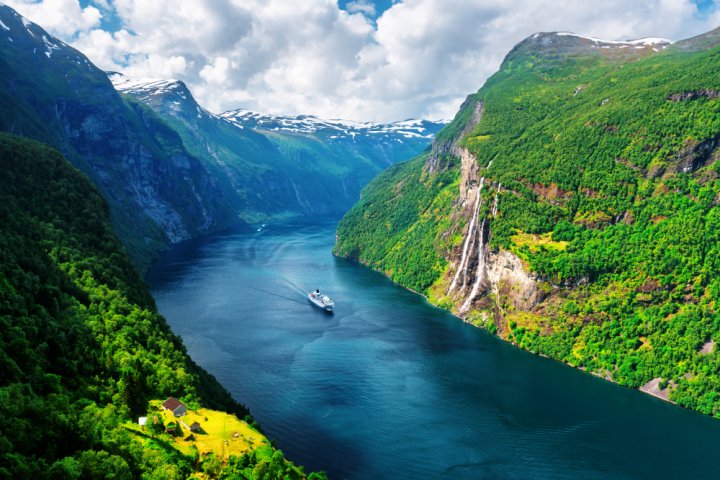 Norway has 44 cities in total, out of which only four cities have a population between 100,000 and 1 million people. Even the largest city and the capital, Oslo has a population of 580,000 persons. Hence, Norway is surely pollution free and quiet Country as compared to other densely populated travel destinations. Norway, with two-third of its area padded with mountains and a large area of its coastline surrounded with over 50,000 islands; has a plethora of places that are visit-worthy. We have tried to pick the ten best places in Norway which should be on the wish list of every globetrotter.
Bergen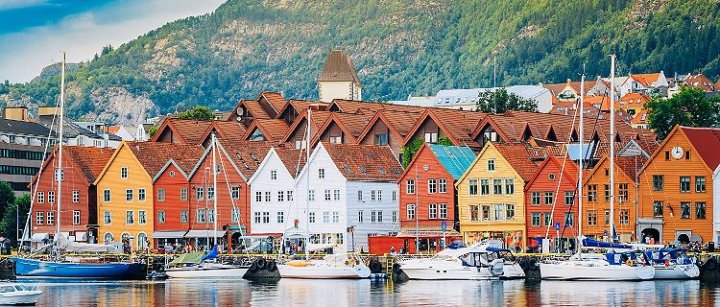 A World Heritage Site – Bergen is an astoundingly beautiful city on Norway's southwestern coast. It is also known as the Gateway to the Fjords of Norway. Bergen, which is located in the middle of Hardangerfjord and the Sognefjord, is the perfect place for a day trip to one of the world's most enchanting serene experience i.e., the fjords. Mountain lovers have the option to go for mountain or glacier hiking, skiing in the mountain landscape, biking in the beautiful fjord valleys or explore the ocean life with water rafting or fishing.

The city is surrounded by mountains and has the North Sea on one side giving this city a beautiful coastline. A few popular tourist attractions which can't be missed in Bergen are Bryggen Hanseatic Wharf, Mount Fløyen (Fløyfjell), Grieg Museum (Troldhaugen), Hanseatic Museum, Bergenhus Fortress, KODE Museums and Market Square. Apart from this Bergen Hop-On Hop-Off tour is a good option to explore the city as it provides in-city transportation and guidance.

Oslo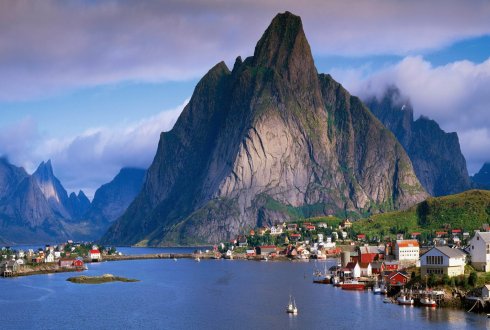 Being the capital of Norway, Oslo has few beautiful tourist attractions as well as places of historical significance. Oslo is located on the southern coast of Norway at the top of the Oslofjord and spread in an area of 480 sq. km. The city outskirts have serene natural beauties with the north and east part surrounded with forested hills and the agricultural farms extending the city limits on the other parts. Oslo has 40 islands and 343 lakes in its limits and the main source of drinking water for a large part of Oslo are these lakes.

Oslo has many beautiful parks and lush green areas like Frogner Park, Bygdoy, Ekebergparken Sculpture Park, St. Hanshaugen Park and University Botanical Park or Tøyen Park to name a few. Also, Oslo is home to some famous museums as Holmenkollen Ski Museum & Tower, Norwegian Museum of Science & Technology, Norsk Folkemuseum – Norwegian Museum of Cultural History, The Viking Ship Museum, The Norwegian National Opera & Ballet, Fram Museum - The Polar Ship Fram and Natural History Museum. Also, TusenFryd Amusement Park is an exciting and popular place for fun and recreation.

The Lofoten Islands
The Lofoten Islands is an archipelago (an extensive group of islands) which constitutes four main islands viz. Austvågøy, Vestvågøy, Moskenesøy, and Flakstadøy, and together with quite a few smaller islands situated close to these four; gives an impression of one vast mountain range from a distance. The islands have huge rock walls as high as 1000 meters and few mountains ranging up to 1266 meters. In summers, the main attraction for visitors is kayaking, camping and sightseeing on the beaches. While in winters, skiing and getting a glimpse of the famous northern lights are the popular outdoor activities. Wildlife in abundance is also a major attraction for tourists and photography enthusiasts as numerous species of mammals, fishes and birds can be seen in the surrounding areas. Few famous places in and around Lofoten Islands is Svolvaer, Trollfjord, Kabelvåg, Røst Islands, Lofotr Viking Museum, Rorbuer: Fishing Huts and Glasshytta: The Glassblower at Vikten Leknes.
Jotunheimen National Park
Jotunheimen National Park is the largest Alpine area on the Norwegian high plateau spread in an area of 1,151 sq. km. and also includes the Scandinavia's tallest mountains. It has many serene rivers, lakes, waterfalls, glaciers, waterfalls and the beautiful reindeers, deers, elks and wolves are a part of its wildlife. Galdhøpiggen is one of the two highest mountains and is 2,438 meters high; however, with the help of a guide, it can be climbed in about four hours.

Jotunheimen is believed to be a hunting site before the time of recorded history. Near the lakes, Gjende and Russvatnet, reminiscences of Stone Age hunting camps have been found. These pastures have signs that date back to Iron and Bronze Age and are believed to be more than 1000 years old.
Trondheim
Trondheim is Norway's third largest and one of the oldest cities. It was founded in 997 AD by Vikings as a trade post and was Norway's capital until 1217; the tradition of crowning new kings is still prevalent here. It's a beautiful city and has many ancient structures owing to its rich history as well as modern architectural marvels amidst green and serene mountains and meadows which look like a picture right out of a fairy tale book. Few famous destinations to visit in Trondheim are Nidaros Cathedral, Bakklandet and Gamle Bybro (Old Town Bridge), Kristiansten Fortress, Rockheim, Archbishop's Palace and Museum, Stiftsgarden, Ringve Museum, Trondheim Harbor and Sverresborg Trøndelag Folk Museum.
Bodo
Located in Nordland county and the second largest town in North Norway, Bodo has a population of around 52,000 people and is spread in an area of 1395 sq.km. It's one of those places in Norway from where the midnight sun is visible from 1 June to 31 July as it lies just north of the Arctic Circle. Few noteworthy mentions which are worth visiting are Norsk Luftfartsmuseum (Aircraft Museum), Saltstraumen (enjoy the strong tidal currents), Kjerringøy Trading Post, Mjelle (beautiful beach), Mount Rønvikfjellet (enjoy the midnight sun), Bodo Domkirke, Mount Ronvik and Futelva River. It's advisable to rent a car while sightseeing Bodo as you will get ample opportunities to click photographs and get immersed in the serenity at your convenience.
Tromso
Tromso which lies in Northern Norway and has an area of 2,521 sq. km., is the 9th most populous city with a population of around 80,000. It's one of the famous places to view Northern lights and ski, snowshoe and dogsled in the winters. The centuries old wooden houses are major attraction for the tourists and the cable car at Fjellheisen glides viewers up the Mount Storsteinen and gives an overview of the city. Few popular museums are also visit worthy viz. Polar Museum, Perspektivet Museum and Nordnorsk Museum etc.
The Svalbard Islands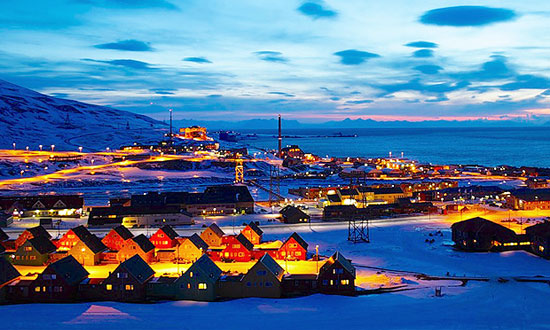 Prior to 1925, Svalbard was known by its Dutch name Spitsbergen and is a group of islands in the Arctic Ocean. The Svalbard Islands are not part of any Norwegian country but is an incorporated area that is managed by a Governor appointed by the Norwegian Govt.. The Islands are located midway between Norway and the North Pole and hence attract visitors in pursuit of arctic nature and wildlife. The islands are home to about a thousand polar bears and 3000 humans who have graduated from villagers to modern dwellers overages. Svalbard means 'cold coasts' and the average temperature here range from 6 degrees in summers to -14 degrees in the winters.
Western Fjords
Fjords are long and narrow deep inlet of water between high steep sides or cliffs and are typically formed due to the melting of glaciers overages. Located in Western Norway, these Fjords have sea drowned valleys and are covered by steep and rugged terrain. This serene tranquillity of nature is beyond words and hence this picturesque landscape is the most wished-for places on the planet. The snake-shaped Trollstigen Road, Jostedalsbreen & Nigardsbreen for a glacier walk in the narrow valleys, Kin Island and Loen Skylift which gives you the breathtaking views in cable car and sweeps you from the start of the fjord to the top of Mt Høven (1011m) in about five minutes are few major attractions.
Alta for Northern Lights
Alta is a city situated right under the 'Northern Lights Oval' surrounded by Arctic tundra and mountains, and is home to 20,000 odd people. This city is considered as one of the best places to view Northern Light apart from a lot of outdoor activities as skiing, hiking and dog sled trips. You can also rent a canoe and go kayaking or simply do bird watching if you are a wildlife lover.
From our editorial team
Travel is One of the Ways to Acquire Tacit Knowledge
Immersing oneself in a new culture and meeting new people from around the world could bring wisdom to a person that they might not get elsewhere. It opens people up to new things, so, why stay in one place, travel around and open yourself up to new experiences.