Inception of Love the World Today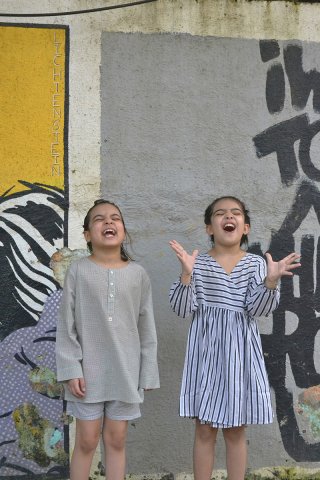 Source
Love The World Today
With so many apparel companies blooming right and left it is difficult to find the best one when it comes to dressing up your little ones. Love The World Today is one such establishment that started in 2015. The company was a dream project for two sisters, Dipti Daryanani Ahuja and Dipna Daryanani, who set out to make comfortable and sustainably made clothes for the little ones in your life, the kind of clothes they wanted their own kids to wear. The company not only makes excellent cotton apparel but does it by keeping the environment in mind as they use natural and organic fibres. The clothes are made using fabrics that are either herbal dyed or dyed using low impact Azo free dyes, thus are making your kids look smart as well as making the world a better place for them to live in.
Being a Change Agent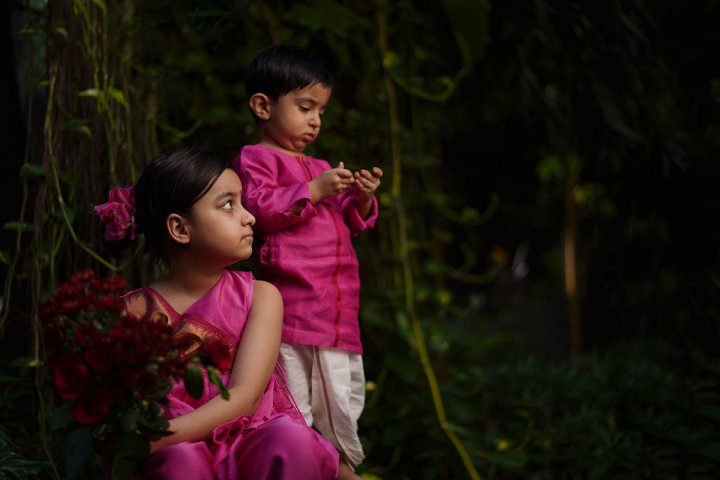 Source
Love The World Today
Having their little ones dressed in cute and comfortable clothes is something that all parents want and they often overlook things like budget constraints when shopping for them. There are dozens of stores providing great outfits for little kids but if you are looking for some stylish and comfortable clothes for your babies then Love the World Today can be a great site to look into.

The company is known for creating wonderful garments keeping the ecological, economic and cultural points of view in mind thus they are doing great in reducing any further harm to the environment by using natural materials. Love the World Today uses handloom techniques to bring fashion to your doorstep which easily becomes a part of your life. These garments are handwoven by weavers and artisans throughout the country which gives them a chance to get a sustainable living and confidence to stay afloat. It also gives an opportunity for the traditional industry to stay in the market and make a place of its own.

Love The World Today also provides a platform for the workers to work and get a fair price on their hard work as well as give them a healthy environment to work in. The company aims to be the one to support fair trade for their workers and buying from them will give you a chance to be a part of the cause.
Things You Should Know about Love The World Today Before Joining Hands with Them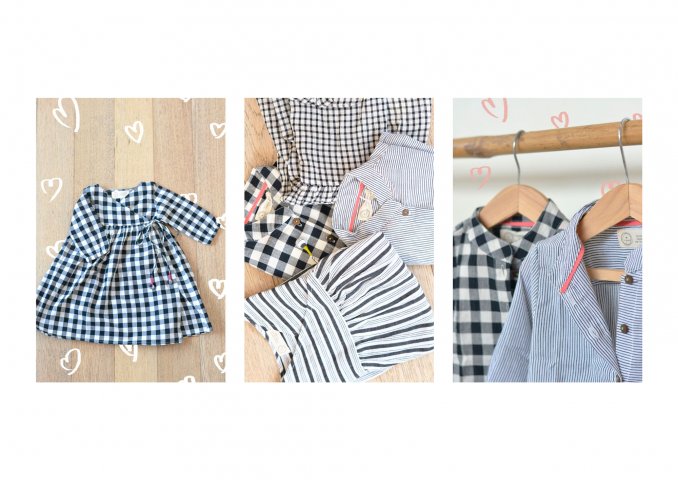 Source
Love The World Today
You might have many questions or concerns about the kind of clothes Love the World Today manufactures simply because you want the best for your child.  Here a few things which might help you to decide if you can go on and shop with them.

The clothes manufactured by Love the World Today are made with utmost care. They are made with soft organic cottons and handwoven fabrics which can easily be hand washed, although some darker shades may bleed. They will last with you for a long time if you follow the instructions of care properly. If you opt to buy clothes from them you can either pay online through net banking or by using your debit or credit card. You can also use the COD if needed. A recent advantage of shopping with them is that now you can have products ship internationally through them and gift a part of Indian culture to your loved ones abroad.
Love the World Today does not have a physical store yet but they offer a vast range of clothes online which reach you within 8 to 10 days of placing an order. They also make cute and attractive accessories to go with the outfits using textile scrap. The best part of being a part of this company is that nothing you use goes to waste. You can send the clothes your child outgrows back to them and they are either donated to the needful or are upcycled.
Q&A with Dipna Daryanani, co-founder of Love the World Today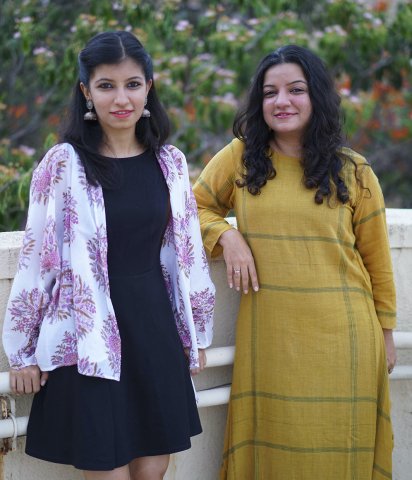 Source
Love The World Today. Dipna Daryanani and Dipti Daryanani
Q. Tell us about yourself and your background.
Love The World Today was started in October 2015 by my sister Dipti and I. Dipti comes from the corporate world and has around 13 years of experience as a marketing professional. I am an educator for preschoolers and a professional dancer.


Q. How did LTWT come to be?
The idea came to us when my niece was 3 years old. Dipti struggled to find good quality clothes that were made from natural fibers. We shopped for her when we travelled abroad but couldn't find such clothing here. That same year I was working with kids and we were doing a theatre piece on trash management. Through that, we learnt about waste in the fashion industry. It was an eye-opener to see the kind of waste that is generated and it got me thinking about sustainability. Dipti had been wanting to start something on her own and we decided to work together.


Q. Have you designed children's clothes before this?
This was the first time for us, and though we have a small team including a designer on board now, at the start we did everything ourselves. We were very clear about the kind of clothes we wanted to make and we wanted to run this professionally.
Q. Are there any memories from your own childhood that you try to bring to your creations?
Being sisters we have a lot of shared memories and recollections. Our very first collection was called Once Upon a Cotton Cloud. It was made n a blue colour palette, reminiscent of how we spent our childhood days playing the cloud gazing game. Another line that came from our childhood memories was sleepwear. Button-down shirts and pyjama sets are the norms now but we remember our father in a crisp white kurta-pyjama. That inspired the 'I want to be like Grandpa' kurta pyjama set.


Q. What is your process and who designs the clothes?
A lot of our work is done backwards. It's much easier to make clothes sustainably when you work with available fabric instead of designing the clothes first and then sourcing fabric. We have worked with available swatches, and at the start, we had limited orders and then designed accordingly. Now our team of designers first outlines what they have in mind if it's something with handwoven fabric, the colours. Then we finalise the colour palette and the fabric. As soon as the fabric comes in we go into production.

It's not just about how the garment looks but also about functionality. Kids love to run and play and even at functions or weddings they are always running around. We try to think of ways to make it comfortable for them, with details like pockets as children like to collect small things, surprise elements such as a little colour somewhere.

It's important to remember that handwoven fabrics come with a certain cost, hence clothes made from these fabrics should last and not be the kind that can be used just once or a few times. Children grow fast and outgrow clothes quickly, which is why our designs are made such that a dress eventually becomes a top for example.
Three Products We Recommend
Summer is around the corner and so is the heat. What can be better than have your little one wear something as cute and comfortable as this 'Sleepover Party' Kurta and Shorts Coord Set in Yellow Checks? The handwoven cotton set is lightweight and ideal for summer. What's more, it is part of their latest collection 'Majama' which is Gujarati for 'life is fun', it is also available in pink. Want something to cover up those little legs as your kids run all over the place and climb trees to get at summer mangoes? Blue and lilac checked kurtas are paired with white pyjamas, and for moms who like to match outfits with their kids, there are grown up versions you will love.

The yellow coord set is available starting from the 6 to 12 months size and all the way up to 6 to 8 years. Depending on what size you pick, it will cost you between Rs.1550 to Rs.1700. Buy it here.
It's the little details we love. Like the long sleeves, complete with slits and buttons, just like a grown ups kurta. And the contrast selvedge. And the zari on the side slits. And the pockets for little hands to tuck away little treasures. Childlike in spirit and so adorably grown up in form and design. This Kumudini handwoven unisex kurta is one you will pull out again and again, and pass it down from one child to the next.

The kurta is made from handwoven cotton silk, made in Maheshwar, Madhya Pradesh, and lined with pre-washed 100 per cent cotton, making it very comfortable in any weather. Available in sizes extra small (6 months to 1 year) to extra large (7 to 8 years) for Rs. 2200. The kurta comes without a bottom and can be paired with a dhoti as pictured here, a pyjama or even jeans. Buy it here.
When it comes to styling your little girls you can't overlook the importance of accessories. You can check out these beautiful Ajrakh Flower Hair ties for your little girl and make her feel special. She would feel stylish and graceful when flaunts these hair ties made especially for her. These hair accessories are all made by scraps therefore each one is unique and adorable to the tee. They are made by women artisans in Auroville with lots of love. You can buy them for Rs. 200 from www.lovetheworldtoday.in.


The Science Behind Perfection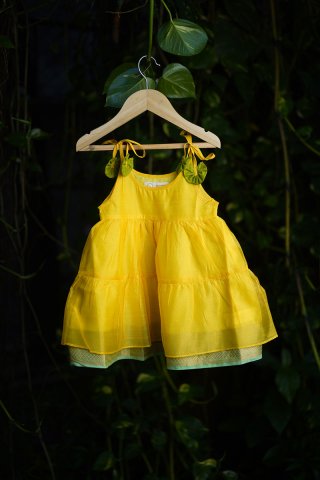 Source
Love The World Today
Q. What are you trying to achieve?
One reason to start LTWT was to figure out a way to make clothes sustainable. Sustainability in the fashion industry is very complex and layered. It starts right from the farming stage with the cultivation of organic fibers. What happens to clothes once people are done using them? Hence the idea of giving people the option to return garments once children outgrow them so we can donate or upcycle them. At the production level, there's a lot of scrap fabric which we upcycle into accessories. It's about how we are really raising our kids.


Q. Tell us what makes clothes from LTWT special?
The fact that they are really made with love. They are made for not just design and aesthetics but also to be sustainable. As an educator and a mother, we have given a lot of thought to what we are giving our kids at a very early age. If we raise them with clothes and other things that are sustainable they will consciously take that forward.


Q. How are they different from other labels that offer customised or organic clothes for kids?
When we started in 2015, there were only 3 or 4 such brands. Now the market has bloomed because there are a growing understanding and need for them. And there is space for everybody and for brands that promote responsible fashion. It's good that there are more brands like us as more people will be educated about sustainability. What needs to happen next is for customers to get smarter and ask more questions about quality and how thighs they use are being made.
A Journey Through Challenges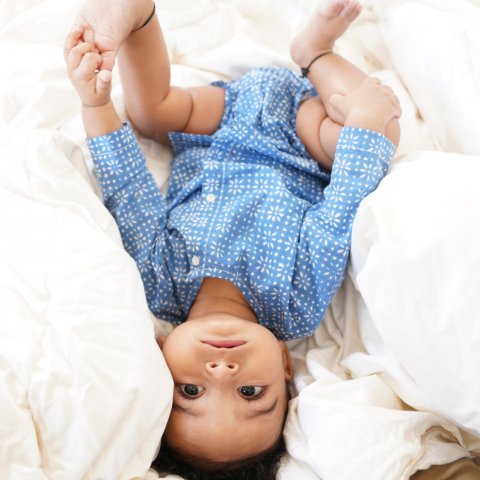 Source
Love The World Today
Q.What are the challenges of running a brand like LTWT, especially with the vision you have?
We don't really have challenges in running the brand. We are very clear about what we are trying to do and that makes choices very simple. If I want to make clothes with handwoven fabric, I know it will cost more and am willing to pay for it. If you have a purpose then decisions become easy as it is a choice of one kind of material over another or certain manufacturing processes.

If there are challenges then it would be educating people about conscious clothing. People have moved towards organic food but are still not paying attention to what they wear. So yes, educating people was a struggle, because unless you come from a textile background you can't tell the difference between types of material. Few people read the label or pay attention to whether it's cotton or a cotton blend, whether it is made in India or Bangladesh. To us, these things matter as we want to support local farmers and craftsmen.

Finding the right partners for manufacturing, finding people with the same vision as us, took some time. At the start, quantities were a problem as our orders were small, but now we are working with the right set of people.
Quality Assurance and Upcoming Plans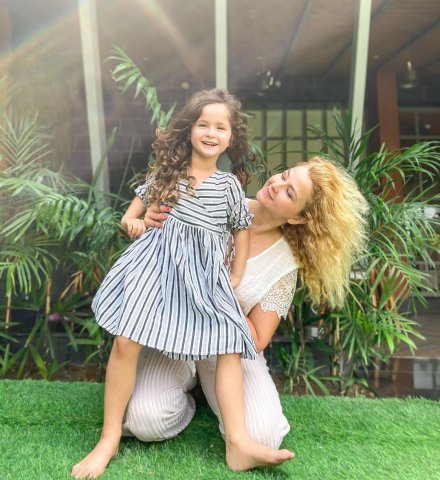 Source
Love The World Today
Q. How do you ensure quality?
We have identified certain partners and vendors. Once that is done and the right relationship established, that ensures quality. We also try to test the clothes by kids in the family to see if they will last- if a child is running around in them all day. We take a lot of care and attention at the design stage. We also advise parents through the care instructions. Our clothes are mostly made of cotton, handwoven fabrics and have to be cared for to ensure the clothes last.

We have also had people who have used some of our clothes for 5 years, passed down from one child to the next. There will be some fading due to multiple washes over time.


Your website mentions upcycling. Please tell us more about how that works.
We tell parents that if their child has outgrown our clothes to send them back to us. We donate or upcycle according to the condition the clothes are in. Upcycling is very much a part of Indian culture and kids will often wear hand-me-downs. But we have to give credit to people to make clothes last as only three times have clothes come back to us! One parent from Hyderabad sent us a carton of her daughter's old clothes and we used them to make a patchwork quilt for her.

We are trying to eliminate waste at every level. Our accessories such as hair clips and hair ties are all made from scraps of fabric that are usually discarded during the process of making clothes. That's why they are all very unique and no two pieces will be alike.