Significance of Ring Ceremony in India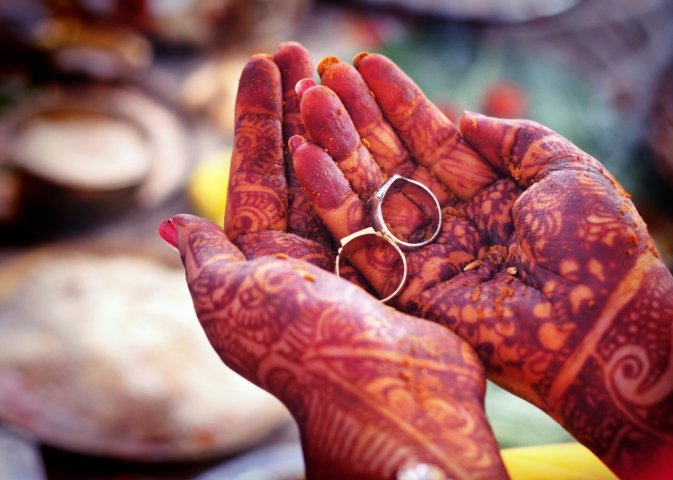 A beautiful tradition, the ring ceremony in India is celebrated in different ways across the country. Every religion has their own customs and traditions for celebrating the ring ceremony. While the customs may differ, the essence of the ceremony remains the same.

It is a pre-wedding ceremony in which rings are exchanged between the bride-to-be and the groom-to-be, making them formally betrothed to each other and paving the way for deciding the wedding date.

It can be considered as an exchange of pledges between the families and formalises the relationship, announcing to the world at large about the upcoming nuptials. Along with the ring exchange, the bride-to-be and groom-to-be's family exchange gifts to seal the deal formally.

The ceremony is often held at the boy's house but some functions are arranged by the bride's family. This of course differs from community to community in India. Relatives, family friends and close friends are typically invited during this ceremony.
A Period of Excitement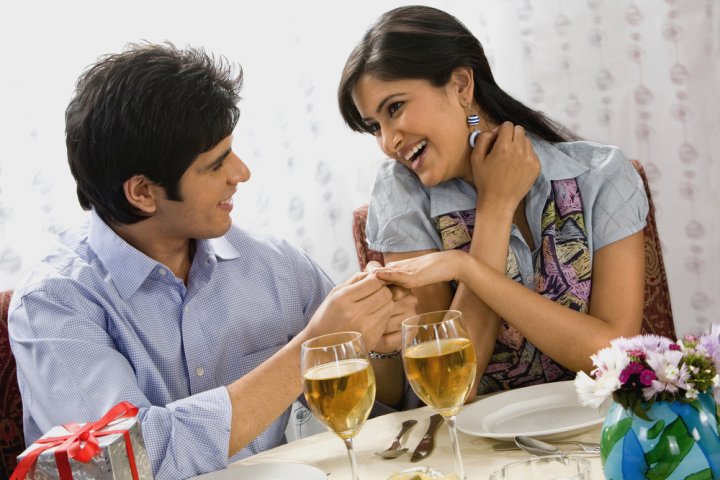 Engagement is a meaningful ceremony which bonds two people together in front of their friends and relatives. The time frame between the engagement and the marriage is one of the most wonderful time in the couple's life especially in arranged marriages. It is a period of officially sanctioned courtship, and they spend the time as "girlfriend-boyfriend"! They can go out for dates, events, movies, shopping and everywhere else with the permission of their parents. It is also a very exciting phase for the couple who eagerly start planning for their marriage.
Selecting A Gift For Ring Ceremony
Think of the Relationship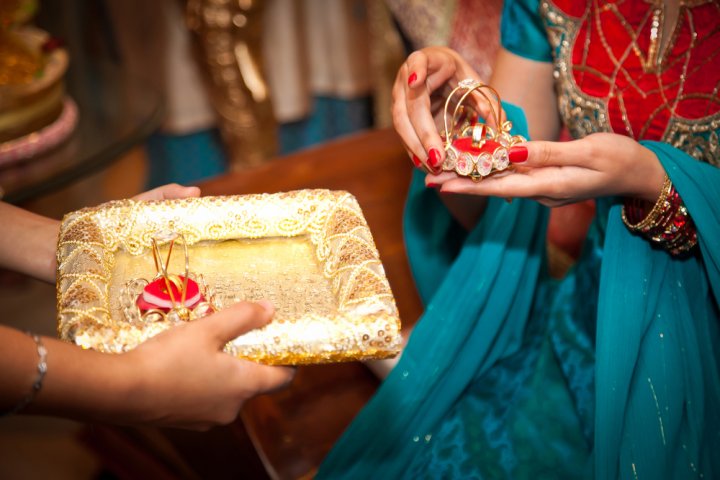 If you are attending a ring ceremony, the kind of gift you give depends on the relationship you share - either with the family or the couple. Your gifts can range from something basic like a box of chocolates to something that celebrates the couple. Close relative and family friends can think of giving them something personal like simple jewellery. If the bride-to-be or the groom-to-be is a close friend, you can be a little more bold in your choice!
Choose Between Traditional And Modern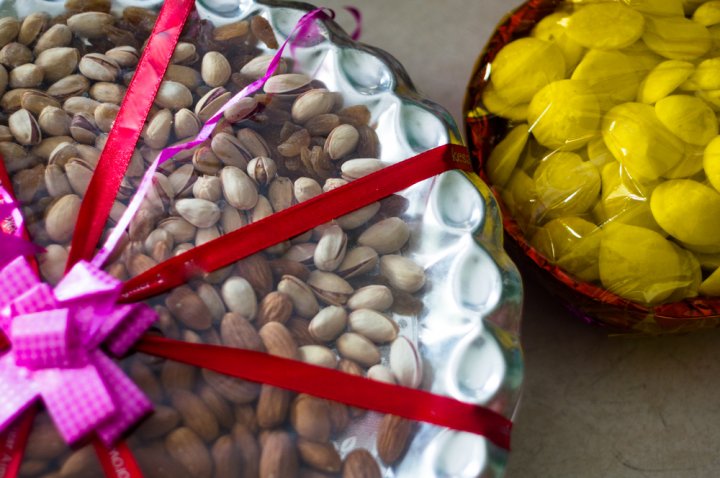 While the families involved are required by custome to give traditional gifts like jewlellery, sweets/dry fruit/chocolate boxes and clothing, others have the choice to give more personalised gifts. If you know the couple well, you can pick out something that matches their likes and dislikes so it feels more personal
Consider Your Budget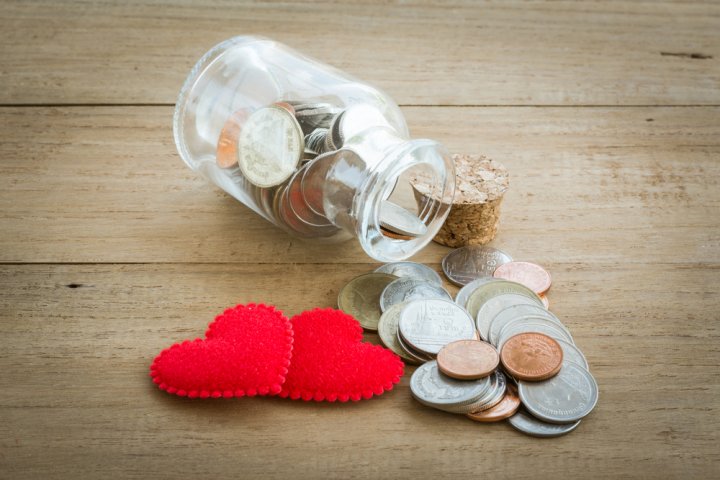 Engagement gifts must be thoughtful but need not be necessarily very expensive. Remember their wedding is on the horizon so keep that in mind while deciding on your gift. Your wedding gift needs to be sufficiently impressive and reflective of the relationship - so the engagement gift can be more low-key and personalised.
Ring Ceremony Gifts from Close Relatives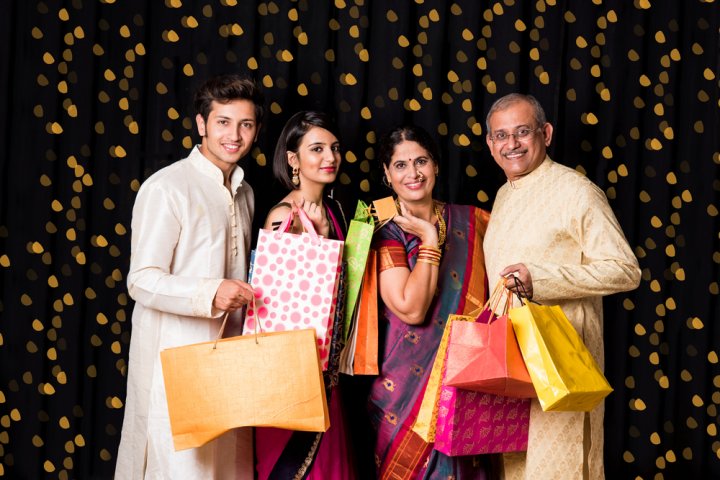 While friends or close acquaintances invited for the ring ceremony may or may not bring gifts, close relatives always do. If a close relative of yours has invited you for a ring ceremony and you find the task of searching an apt gift for them quite daunting, then we are here at your rescue. In this gifting guide below, we have jotted down some categories of ring ceremony gifts. These categories include gifts from different relatives and gifts for each other. There are also some tips on what not to give for a ring ceremony. Read on further to know more.
Gift Voucher For 5-Star Dinner Experience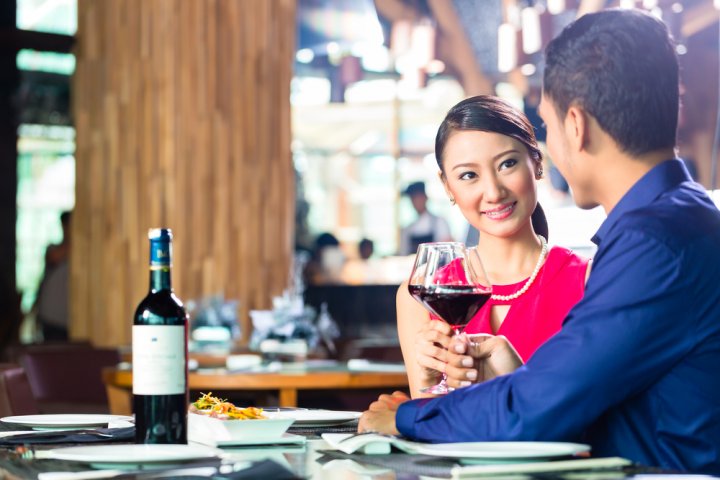 A lavish dinner voucher for the two in a 5-star hotel is a fantastic way to celebrate the cemeting of the relationship. This a great way for the lucky couple to know more of each other and spend some quality time with each other.
Simple Jewellery
A piece of elegant jewellery is a perfect gift for ring ceremony. The bride will appreciate any jewellery given to her right now as a token of your love. Look up options in sites like caratlane.com - you will find a whole range of chains, pendants, bracelets, earrings and rings, in every price point. This Station Pearl Bracelet for Rs. 9,669 is a stylish option for her at the site. They also have a separate section for men's jewellery, so you can get something simple for him as well.
Subscription to Bridal Magazines
Subscription to a bridal magazine is what seems most appropriate gift from a sister to her bride-to-be sister or from a sister-in-law for her bhabhi. Bridal magazines like Asiana, Bridal Mantra, Brides Today, WeddingTime, Bazaar Bride, Shaadi Style and plenty such others top the lists in India. One can find exciting bridal makeup, trendy bridal dresses, bridal jewellery, marriage decor and every other segment elaborately covered in these magazines. A subscription to any of these magazines might cost you Rs 1200 to 1500 annually.
A Bottle Of Premium Liquour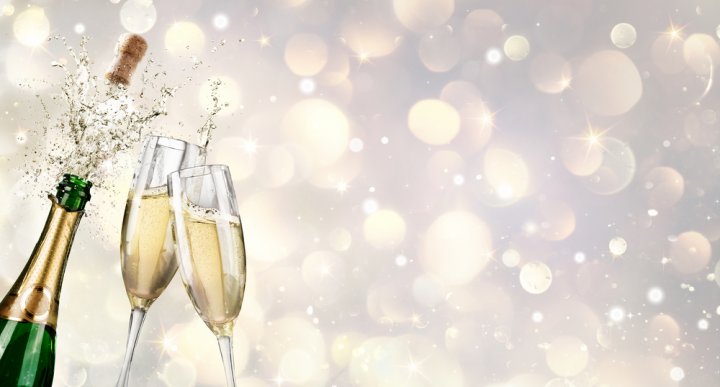 Exotic wine or champagne can be a perfect gift from brother to his brother-in-law or brother. Pick up the most exotic wine or champagne you can find and wrap it up beautifully to make it look like a gift. You can browse through various online vendors like Liquorama and giftsnflowers.in and avail online home delivery depending upon the state you live in India. Or you can walk into your local shop and pick up something special.
Ring Ceremony Gift from Friends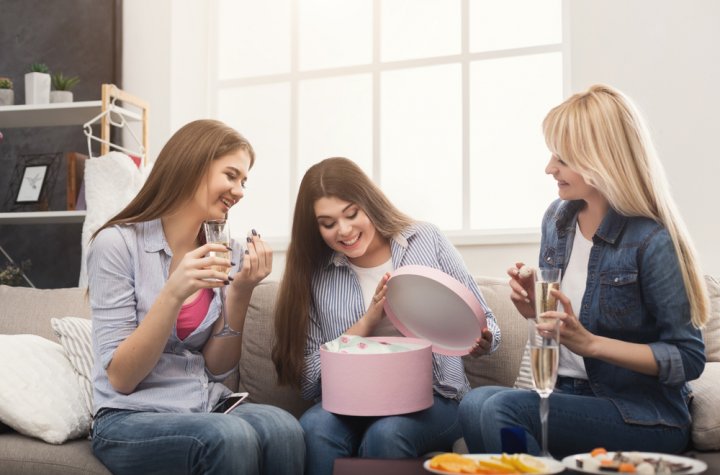 Friends have the license to gift almost anything right from something naughty or nice. So if you are a friend, whose best friend is getting engaged anytime soon, then you better log on to our guide to check on some cool gifting options.
Titan Skinn Gift Set for Couple
This perfume gift set contains a combination of two elegant and powerful French Eau De Parfum (50ml each) for him and her. The fragrances - Raw for men and Celeste for women - are a perfect gifting option for the ring ceremony. The male fragrance has notes inspired from rain on a hot summer day and balances the fresh aroma with the bold underlying masculine notes. Celeste on the other hand brings alive the aroma of a spring garden evoking white floral notes plus a hint of peaches, pears and the dry sandalwood. Get it for Rs. 2085 from Amazon,
Couple Spa Session Voucher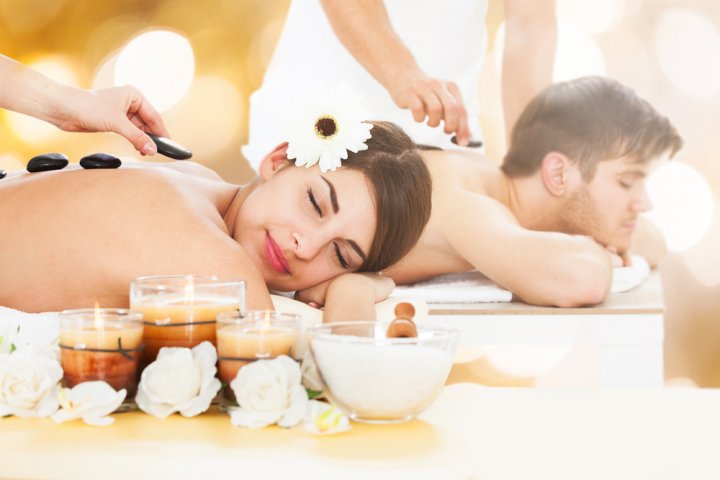 Get the soon-to-marry couple a voucher for a rejuvenating spa session. They can take the time to refresh themselves before the madness of the wedding preparations starts. The Taj Experiences voucher is a great choice, available at amazon.in for Rs. 1,000. Alternatively you can give them a voucher from Tattva Spa which has spa centers in all major towns across India.
Naughty Gifts
If you belong to the naughty friend category, then this is the best chance for you to get mischievous. Look for intriguing sexy gifts that you can give the couple and make them blush!
Crazy Ideas
Fifty Shades of Grey Submit To Me Kit :If you have read this erotic saga, you will have an idea of what we are talking about. Bondage restraints are tie ups for tying up the hands of a lover while a blindfold made from a delightful satin material can be used to cover their eyes. A cute little spanking paddle just adds more fun to the gift hamper. Wait till your friend blushes bright purple on opening this. Priced at Rs 1990, this one is a unique gift for sure.
Shunga Body Painting Aphrodisiac Chocolate: Available at Thatspersonl, this is an exquisite and lickable body paint that takes love making to a whole new level. This 100 ml of edible chocolate is from premium ingredients and it tastes exquisite. It does not use artificial colour, and comes with a brush. Experimenting with the body paint can make foreplay more exciting and passionate for your firends. You can get this online at Rs 799 only.
Ring Ceremony Gifts for Each Other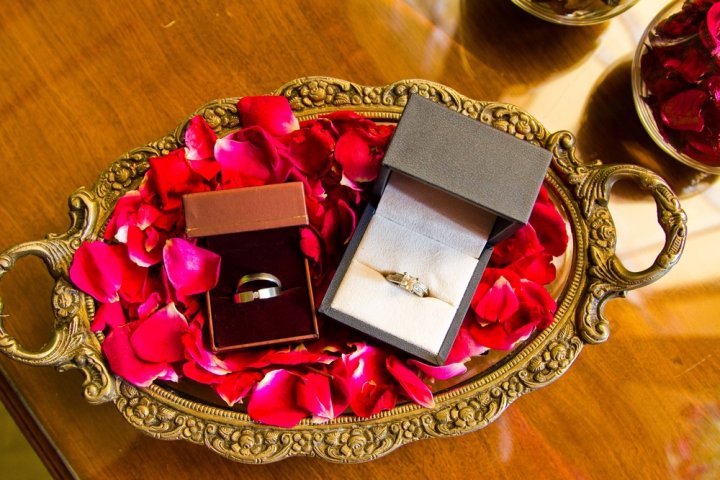 If you are browsing through ring ceremony gifts for each other, then do have a look at the options below. Ring ceremony gifts for each other should be memorable gifts.
Couple Watch
If you are searching for some low cost couple's watches which are highly durable for regular wear after marriage, then this couple's watch pair is just too perfect. These are unique designer style watches for men And women. You can check these latest collections on Krftly with a very special offer price. The classy silver metal watch with a black dial looks elegant and dressy. Both are analogue watches. Priced at Rs 999, this one is an interesting deal.
Couple Jewellery
Caratlane has some awesome jewellery choices for couples. Couple jewellery sets have a similar feature in both the sets making them a cherished memento. For example, initial engraved pendants on gold chains are a great idea. Browse caratlane.com for more such options.You can be rest assured of the quality and purity of the gold and platinum as Caratlane offers only ISO tested and marked jewellery.
Makeup Hamper
For a bride-to-be, a makeup hamper could be a dream come true. Gift your would-be-wife a beautiful gift hamper from a good brand. A makeup hamper could include foundation, concealers, eye makeup products like eyeliner, mascara and kajal. Also gift a huge range of lipsticks and shadows. If you love to see your beloved all dolled up, then this is a small price to have her looking ravishing and decked up for you! This hamper essentially depends upon your budget. There are various makeup brands in the market and their products could cost your from Rs 3000 to Rs 15000. You can also take your fiancee along with you and have her shop to her fill for her dream makeup products. Nykaa.com has some amazing options for makeup gift hampers. There is a unique option of customizing makeup kits online so you can select products you want in your makeup gift hamper.
Grooming Kit
If you want your guy to look dashing, dapper and well-groomed at all times, how about gifting him a good grooming kit from a costly brand? A men's grooming kit can include products like aftershave lotion, shaving foam, shaving gel, perfume, deo, beard oil, beard conditioner, electronic trimmer and various such other products. Check out this amazing Charcoal gift hamper named as The Charcoal Gang, this hamper is priced at Rs 2, 799 only. If there ever were a royal cleanse, it'd be this.
What Not to Give!
Of all the ring ceremony gifts exchanged since years in India, there are some which are most unappropriate and silly. While looking for ring ceremony gifts make sure that you do not give the following at all!
No Kitchen Appliances Please!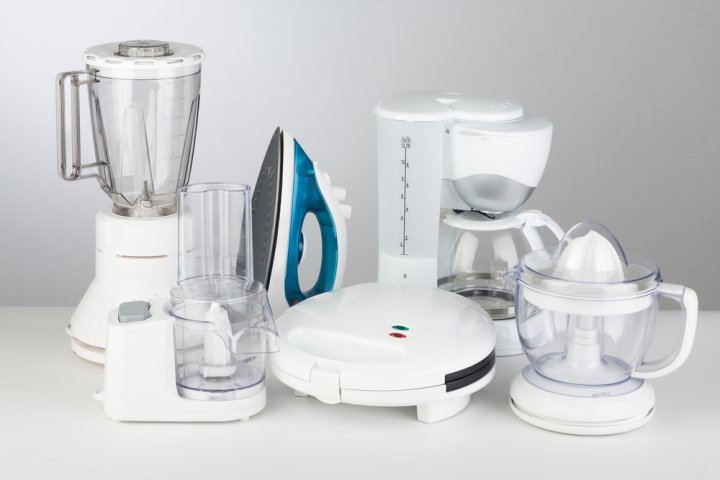 We have heard plenty of tales of newly engaged couples or newly married couples opening up dozens of glass crockery boxes, juicers, blenders and toasters given by friends and relatives for their ring ceremonies. C'mon peeps, newly married couples have all the rights to pick up their preferred kitchen appliance or set of crockery. What is the use of burdening them with these? Try to make your gift more personal, and useful.
No Relationship Advice Books!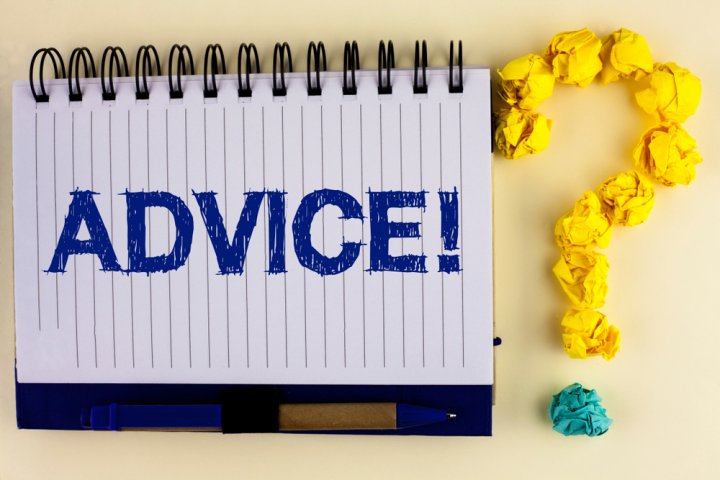 This one sounds like a very rude gift for a ring ceremony. Life and situations differ for everyone. These books might have important advice but to get a relationship advice book on the day a couple pledges eternal love for each other can be very unnerving for the newly weds. It is best to avoid such gifts.
No Cash/Cheques Please!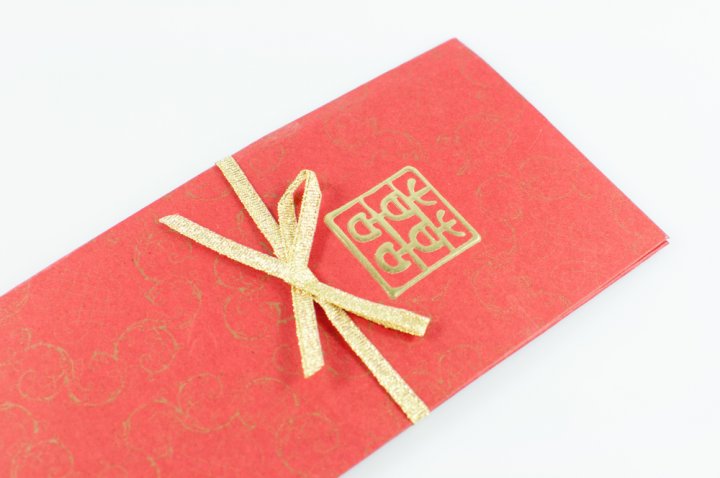 A cash cheque on such an important day also sounds rude. Everyone has their own money to fend for themselves. You can, instead, buy a voucher for the couple if you do not know what to buy. It is an age old custom in India to give cash to the new couple on their engagement ceremony but these days, more and more people are refusing cash as they find it unnecessary. It is better to play it safe with a nice gift.
From our editorial team
Make The Wedding Gift Count More
The ring ceremony is the beginning of the wedding frenzy and the soon-to-marry couple will be deluged with gifts of all kinds. If your relationship allows for it, ask the couple what they would like on their wedding. Or if they plan on having a wedding registry. They will be glad to have someone consider their needs while picking out their wedding gift.