Diwali – A Festival Full of Joy!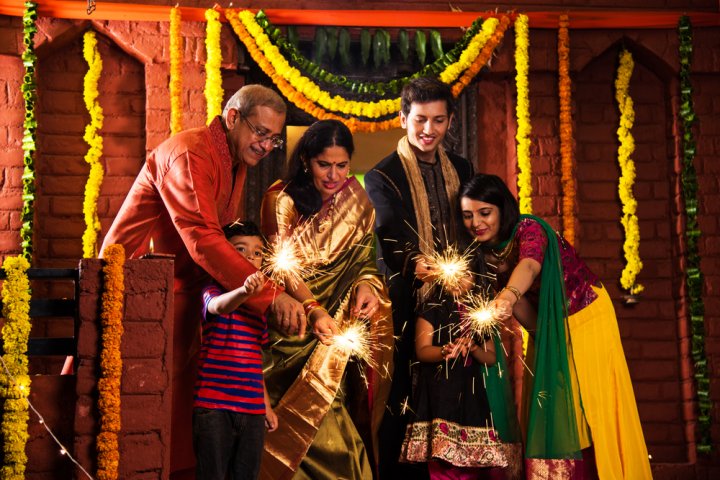 Diwali is just around the corner and it is the time for the preparations for celebrating it like always. Diwali is one of the most loved festivals and is celebrated mostly by Hindus, Sikhs and Jains all around the world. The festival gives you an opportunity to be with your family and friends and have a blast. Diwali is celebrated because Lord Rama and his wife Sita came back from the exile after defeating King Ravana. So, it calls for great joy and lots of good food.
How to Eat Healthy this Diwali?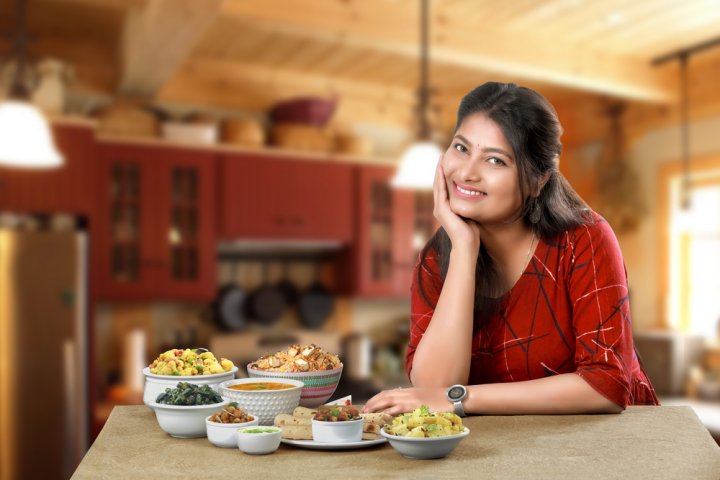 Diwali is celebrated with lighting fire crackers and eating sweets, that too, a lot of sweets. Many of you prepare different kinds of sweets and snacks at home and pass it around among friends. The most popular sweets during Diwali are laddoo, barfi, gulab jamun, halwa and many more which compel you to eating all of them and gaining a lot of weight by the time the festivities are over. It is great to have fun during festivals but it is also important to stick to your goal of not gaining weight because as we all know it is easy to put on some weight but very difficult to get rid of it. Here we have given some tips of how to eat correctly during Diwali without missing out on all the goodies, but first let us look into some tips on how you can control you urge of eating too much during the Diwali parties:
Everybody loves sweets but they are made of a lot of sugar and refined flour. If you want to keep a check on your weight try making sweets with jaggery or honey instead of sugar. You can also use dates; they enhance the flavour as well as give a great texture to your sweets.


Try making most of the goodies at home. You will be able to cut out the artificial sweeteners and colours when you make them at home. They will be healthier and safer to eat too.


Drink lots of water especially before going to a party. This will make you feel full and prevent you from eating too much.


Parties have lots of fried food which are made from refined ingredients. They are bad for your overall health. Try not to reach out to too many fried items, instead, eat salads, stir-fry vegetables, fruit platters, etc. to keep yourself full and avoid gaining weight.


One good way to keep a check on how much you eat is to eat in smaller plates. Eating in smaller plates helps your brain to think that the food is enough for you and you don't end up eating too much. Also, try not to go for a second helping.


Have loads of fun during the festival but don't miss out on your exercise. Take some time out during the day and work out. Even a small walk or a little yoga can help you keep fit. A 30 minute workout each day can help you burn those extra calories you took in a night before.


Parties also have lots of alcohol in them and some of you tend to overdrink when with friends. Remember that alcohol is made by fermenting sugar and starch and is high in calories. A glass of bear will give you 150 calories whereas red wine has about 125 calories in a glass. So, each time you raise a glass think about how many calories you are about to consume and how much effort you'll have to put in to burn it off. It is best to stick with wine spritzers and light beer during parties.


Diwali parties have assorted sweets, namkeens and dry fruits, so whenever you have a choice go for nuts like almonds and walnuts. They keep you full, are good for your health and do not contain a lot of calories.


Make sweets with millets and jaggery to cut down the calorie count.


Avoid eating raw, brown or white sugar as they all have enough calories to show the next day. Also avoid eating white flours like maida, instead use whole wheat. Stay away from pre-packaged desserts as they are kept in sugar water and have lots of harmful preservatives in them.
7 Healthy Diwali Snacks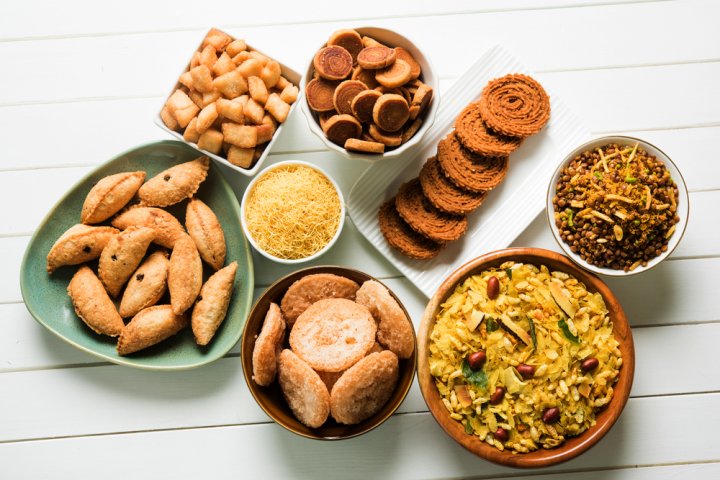 Healthier Version of Kaju Katli
When talking about sweets, Kaju Katli is the one of the most talked about. It is one of the most popular sweets during festivals. Kaju Katli is always in demand which has lead people to use artificial ingredients in it to cover the demand and this has made it quite harmful for your health. You can easily make this delicious sweet at home by removing the sugar from it and adding honey as a sweetener. Here is how you can make a healthier version of your favourite sweet right at home:
Ingredients:
1 cup cashew nuts whole
¼ cup honey
2 tbsp water
1-2 drops rose extract or 5-6 strands saffron
Method:
Take a frying pan and dry roast cashews in it on a low flame. It should take about 5 minutes to do so. Keep stirring the cashews to avoid burning them.
Put the roasted cashews in a food processor and pulse them for 10-20 seconds to make a coarse powder.
Take honey and water and put them in the same pan.
Heat it till it starts to bubble and add the cashew powder to it. Turn the heat low and mix it well for a couple of minutes to get it into a semi-solid consistency.
Take a parchment paper and put the cashew mixture on it.
Cover it with another parchment paper and flatten it with a rolling pin.
Take the paper and place it in the fridge for about 30 minutes to one hour.
Remove it and cut it into diamond shape and your Kaju Katli is all set to be served.
Butter Murukku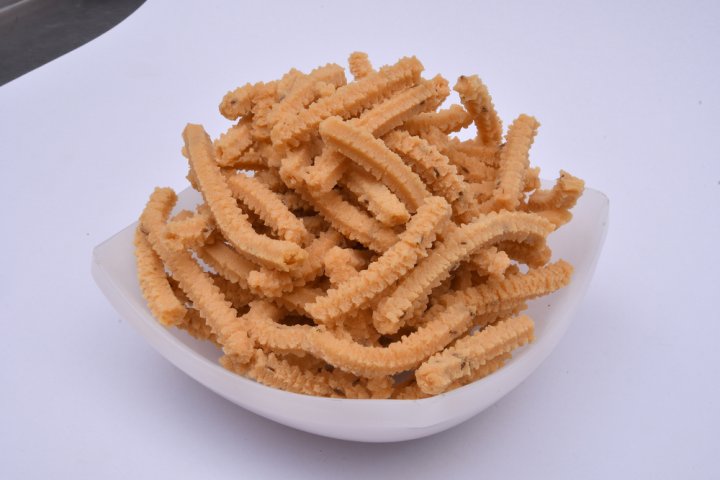 Murukku is a very popular South Indian snack. The original recipe for making murukku uses urad dal but if you want to make a lighter version you can use rice flour, besan and chana dal. It tastes very nice and the crunchiness makes it taste better with a hot cup of tea. The recipe given below is quite healthy due to different flours mixed in it. It is good for your digestion and immune system. Here is how you can make it at home:
Ingredients:
1 cup (150 gm) rice flour
1 tbsp roasted chana dal flour (porikadalai flour) or 1 tbsp roasted chana dal ground to a fine flour
2 tbsp besan (gram flour) 2 tbsp salted butter (you can use unsalted butter also)
½ tsp cumin seeds
½ tsp asafoetida (hing)
⅓ tsp salt (or add as required)
9-10 tbsp water (or add as required)
Oil for deep frying
Method:
Take a bowl or a pan and mix in rice flour, besan and roasted chana dal flour. You can grind 1 tbsp roasted chana dal in a grinder and get a fine powder.
Add in 2 tbsp salted butter into it.
Now, add ⅓ tsp of salt.
Mix it all well by rubbing the butter in the flour with your fingertips.
Add in ½ tsp cumin seeds and ½ tsp hing.
Mix everything well.
Take water in a jar and add it in parts for kneading the flour.
Now take a star nozzle lid to make murukku.
Apply some water in the murukku or chakli maker.
Take some dough and put it in the maker.
Heat oil in a deep frying pan, add a little dough in the oil to check if it is well heated.
Now press the murukku maker on top of the oil and let it fall in the oil.
Fry them till they are half done but flip them only when they are crisp on one side.
Keep flipping them till they are golden.
Remove them from the oil and put them on a paper towel.
Repeat the same procedure for all the batter and store them in an airtight box to serve to your guests.
Broken Wheat & Flaxseed Ladoo
Diwali is incomplete without a plateful of yummy laddoos, but if the laddoos are healthy it turns into an even better treat. You can eat as many as you want without worrying about weight gain. This recipe makes laddoos using broken wheat and flaxseeds. Flaxseeds help in reducing cold and cough as well as pain in the joints. These laddoos will not only make your treat delicious but will add more nutritional value to it. You can let your kids have them throughout the day.
Ingredients:
½ cup broken wheat
½ cup wholemeal flour
3 tbsp flaxseeds
½ cup ghee
¾ cup grated jaggery (gur) desi if possible
¼ cup finely chopped nuts like almonds, cashews, pistachio or kesar-badam masala as per your choice
2 tbsp yellow sultanas
¼ tsp cardamom powder
¼ tsp nutmeg powder
Method:
Wash and soak broken wheat for 5 hours.
Roast flaxseeds on low heat and let them cool down.
Run them in a grinder and make a coarse powder.
Now dry roast wheat flour without using ghee on low heat and keep it aside.
Next drain out water from the soaked broken wheat.
Take a heavy based pan and heat ghee in it (leave 2 tbsp ghee aside for later use).
Add the wheat and roast it on low heat.
Take it out in another bowl.
Keep stirring and let all the moisture dry up, and roast till light brown colour (it can take up to 20-25 minutes).
Transfer into another bowl.
Now in another pan heat 2 tbsp ghee, add grated jaggery.
Let the jaggery melt, keep it on a low heat, you can see the jaggery melt and bubbling away. As soon as the syrup gets frothy turn off the heat.
Add syrup into the roasted broken wheat, flaxseed powder, add chopped nuts, sultanas, cardamom and nutmeg powder.
Now add ¾ of the roasted whole meal flour, mix well with a wooden spoon. (Beware of the hot syrup).
Take a lemon size of the mixture and make it into balls, if needed add more flour.
Make all the balls from the mixture.
Let it cool and store in an airtight container.
Enjoy them every morning with a glass of warm milk.
Dry Fruit Gujiya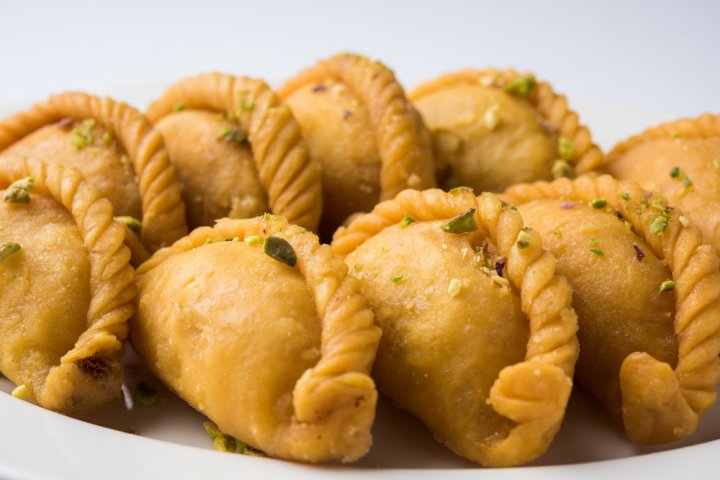 Gujiya is another popular sweet in Indian festivals. It is not just the making of the sweet but the amount of preparation and the contribution of the whole family in making it that makes it very special. Traditionally, gujiya is made with maida and sugar combined with ghee and dry fruits, but to make it a little healthier you can use whole wheat flour and semolina, you can also put in dates for that sweet flavour instead of sugar and serve healthy gujiya on this festival.
Ingredients for Outer Covering:
1 cup whole wheat flour
1 tbsp fine suji/semolina
1-2 tbsp ghee
Pinch of salt
½ cup milk or as required
Ingredients for Stuffing:
20 dates (deseeded and chopped, approximately ½ cup)
¼ cup desiccated coconut
2 tbsp dry fruits powder
Other Ingredients:
Method:
Add suji, whole wheat flour and ghee in a bowl and mix it.
Add warm milk to it and knead into a semi-tight dough.
Cover it with a cloth and leave it for 15 minutes.
For the stuffing, put the deseeded and chopped dates, desiccated coconut and dry fruit powder in a bowl and mix it well.
Divide the dough into 8 equal portions and roll them into a disc.
Hold 1 disc in your palm and put in 1 tbsp stuffing in it.
Fold it into a ½ circle and seal the edges with little milk.
Now you can use a gujiya cutter to give it a shape or do it with a fork.
Heat oil in a deep heavy based pan on medium heat.
Put 2-3 gujiyas in it and deep fry till they are golden brown from both the sides.
Remove and place them on a tissue paper.
Let them cool down and store them in an airtight container or consume them right away.
Peanut Masala
Since you get to eat sweets everywhere when you go out during Diwali, why not serve something salty and spicy to your guests? Masala peanuts is a great snack to much on while you sit around with friends and have your tea. It is loved by people of all ages and you can make a whole lot of it and store it in an airtight container.
Ingredients:
½ cup gram flour (besan)
2 tbsp rice flour
2 tbsp corn flour
¼ tsp turmeric (haldi)
1 tsp Kashmiri red chilli powder
½ tsp ginger garlic paste
1 pinch baking soda (optional)
½ tsp salt
2 cups (350 gm) peanuts/groundnuts
2 tsp oil
3 tbsp water
Oil for deep frying
½ tsp Chaat Masala (optional)
Method:
Take ½ cup besan, 2 tbsp rice flour and 2 tbsp corn flour in a bowl.
Add ¼ tsp turmeric, 1 tsp chilli powder, ½ tsp ginger and garlic paste, a pinch of baking soda and salt as per taste.
Mix them well and add 2 cups skinned peanuts with 2 tsp oil in it.
Mix well and add 2 tbsp water, keep adding water in small quantity till the peanuts are coated with the besan properly.
When coated add 1 tsp rice flour again to separate it.
You can either deep fry the peanuts in oil or simply bake them at 180°C for 20 minutes.
When done sprinkle some chaat masala and your delicious and healthy snack is ready for the party.
Whole Wheat Namak Para
Another all time favourite and delicious snack for Indian festivals is the namak para. It is made on almost all the festivals be it Holi, Diwali or Christmas. They are tasty and you can keep eating them unless someone removes the plate. Although they are made with maida but you can always make them with whole wheat flour to keep them healthy. Here is how you can make them:
Ingredients:
2 cups wheat flour (300 gm)
4 tbsp ghee (75 gm)
1½ tsp cumin seeds
¾ tsp salt
Oil for frying
Method:
Put 2 cups wheat flour and ¾ tsp salt in a bowl.
Put in 1½ tsp cumin seeds, 6 tbsp clarified butter and mix it well.
Now, add ½ cup water in small parts to knead a stiff dough.
Cover it and leave it for 20 minutes, knead it again after 20 minutes.
Divide the dough in 2 parts and roll them flat depending on the thickness you want.
Cut them in any shape you want.
Heat oil in a deep pan and add the namak para in it in small batches. Deep fry on medium low flame till you see them floating on the surface and turning golden brown.
Remove them and put them on a tissue paper. You can store them for 1-2 months in an airtight container.
Crushed Peanut Chikki
You can't go to Lonavala every time you want to have chikki so why not learn to make it at home? This is the season for peanuts and you can easily turn them into delicious and healthy chikki. They are a great snack and you can eat them during fasts as well.
Ingredients:
1 cup peanuts raw or roasted unsalted peanuts
1 cup jaggery roughly chopped
½ tsp ground cardamom powder
1 tbsp water
1 tsp ghee and some more for greasing
Method:
Start with heating a pan and roasting the peanuts on low heat. Let them cool down.
Rub them between your palms to remove the skin and grind them into a coarse powder.
Add cardamom powder in it.
Put parchment paper on a baking tray and grease a rolling pin with ghee.
Heat a non-stick pan on medium low heat and put in jaggery with water. Stir it till the jaggery melts.
Now add ghee and heat on low flame till it bubbles.
Put a drop of water in it to see if it has reached the hardball consistency. Check to see if it breaks like a candy, don't cook it too much.
Add the peanut mix in it and mix it before it hardens.
Remove it and immediately transfer it to the pre-lined tray and roll it with a rolling pin.
Cut into desired shape and size and let it cool.
Store in an airtight container and devour it when you feel like it.
Writer
Sarita Tiwari
Sarita worked in the development sector for 20 years but found her passion in writing. She is a blogger, a content writer and a ghost writer for various industries. When not writing, you will find her spending time with her family, cooking and traveling. She is an introvert and feels that writing gives a voice to her thoughts.
From our editorial team
A Little Care During Long Festive Seasons is Advisable
Festivals and celebrations are always marked with excess unhealthy and fatty food consumption which end up in creating health problems for you. However, if you take a little care with respect to your diet during the festive season there is no reason why you should not enjoy Diwali to the fullest with your family and friends. We hope you would have loved the healthy Diwali snack recipes in this BP Guide. Stay connected with us for more such engaging content.