Rice Cookers can Help in Cooking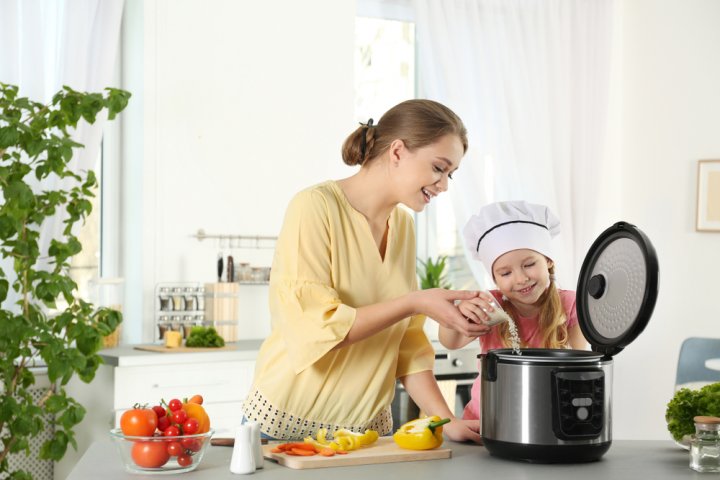 Cooking rice just right is an art! It takes experience and good judgement to get fluffy, well-cooked rice. Cooking rice using the pressure cookers, over stove top or in the microwave oven are the most popular ways but they are not fool proof. It can be easy to find yourself with lumpy, overcooked rice if you don't know exactly what to do. It can also be time consuming as sometimes you have keep checking at regular intervals to see if the rice has been cooked properly.

This is where the rice cookers can be a lifesafer! The rice cooker simplifies the processs - add rice and water in required proportions using the given measuring cup, select the right setting and voila, you get lovely rice without any fuss. The rice cooker is also very convenient as it allows the user to cook different recipes too. In this article, we will take you through some of the rice cooker dishes that are easy to cook.
Vegetarian Rice Cooker Recipes - Indian Style
Lemon Rice
If you wish your rice to have the tang of a lemon, you can have this recipe on your menu. A lot of people loves the lemon rice, and can go with any side dish - vegetarian or non-vegetarian.
Ingredients:
2 cups of dry rice
2 lemons
1 spoons butter
½ spoon salt
1 dried red chilli
1 spoon cumin seeds
1 spoon turmeric
1 sprig of curry leaves
1 spoon mustard seeds
Some peanuts
1 spoons oil
3 cups of water
Recipe:
Cook the rice in the rice cooker. When the rice is cooked, pour the lemon juice on the rice and keep it aside.
Take a pan and heat the oil and butter over medium heat. Except for the salt, add the rest of the ingredients. Heat for around five minutes so that the peanuts turn brown.
Add this mixture to the rice cooker and warm it thoroughly.
Saffron RIce
Saffron rice is another standard recipe that can easily add some new flavour to your staple diet. It has a yellow tinge that can be quickly done using a rice cooker. It is quick to make, and you need not sauté any other ingredients. We will take you through the recipe and how you can make it using a rice cooker.
Ingredients:
1 cup basmati rice rinsed
½ spoon onion powder
1 tablespoon coconut oil or butter
A pinch of saffron threads
¼ spoon salt
¼ cup boiling water
1 ¾ cup stock (veggie or chicken)
Recipe:
First, you must combine saffron threads and boiling water and allow to 'steep' for at least 5 minutes.
Next, you have to combine this along with the basmati rice and the other ingredients.
You must cook using the 'white rice' function or regular function.
Vegan Curry Rice
If you have to scavenge the refrigerator and prepare rice, the vegan rice can be your ideal recipe. It can be a hearty meal that you can prepare using the rice cooker.
Ingredients:
1 cup of brown rice
1 large broccoli crown
¼ spoon onion powder (optional)
¾ can garbanzo beans (chickpeas)
¼ spoon garlic powder
1 - 2 cups baby carrots
1 cup of coconut milk
½ spoon turmeric
Freshly ground pepper
½ spoon salt (more to taste)
1.5 - 2 cups of water
Recipe:
You must place the turmeric, garlic powder, onion powder, coconut milk, water, rice, and salt in the rice cooker and turn it on.
The broccoli must be cut into florets and place it with the baby carrots in the steamer basket above the rice cooker.
You must allow the rice to cook for ten minutes before placing the vegetable steamer on top of it.
Chop the cooked vegetables into small pieces and put them in the cooker along with the garbanzo beans.
Stir the ingredients together along with the ground pepper. You can add some more salt to taste.
Non-vegetarian Rice Cooker Recipes - Indian Style
Chicken Biryani in Rice Cooker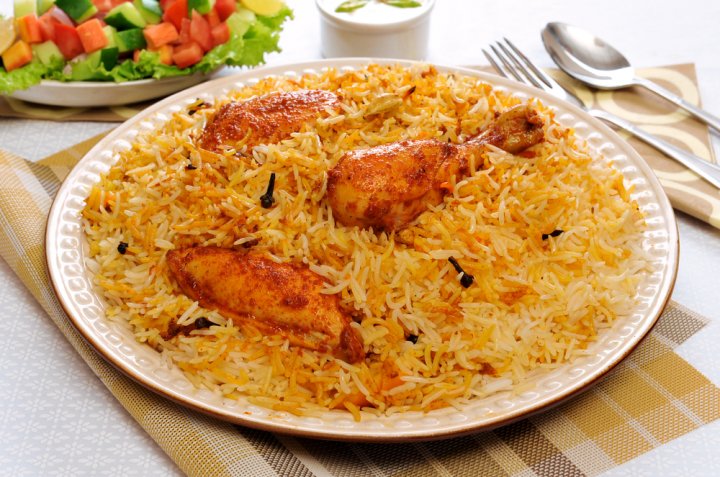 Everyone loves biriyani, but little did we know that biriyani can also be made in a rice cooker. It is more convenient to make biryani in a rice cooker. We will take you through the ingredients and how to make it.
Ingredients:
700 grams Chicken
3 cups Basmati rice
2 spoons unsalted butter
2 tomatoes, chopped
1 onion, sliced
1 cup yoghurt
1 spoon cumin seeds
2 Bay leaves
½ spoons whole peppercorns
¼ spoon turmeric
1 spoon garlic ginger paste
3 mace
3 cardamom
6 cloves
4 hot peppers
1 spoon garam masala
1 spoon red chilli powder
2 scoops biryani masala
¼ cup mint, chopped
½ cup cilantro, chopped
1 spoon lemon juice
5 cups of water
2 spoons oil
Salt, for taste
Recipe:
Firstly, wash and soak the basmati rice and keep it aside.
Clean the chicken pieces and then place them in a wide bowl.
Now add the red chilli powder, ginger garlic paste, biryani masala, lemon juice, turmeric, garam masala, yoghurt, oil, salt, along with some cilantro and mint to the chicken pieces and marinate them. Keep it for at least an hour.
Add the oil and butter to the cooker and turn it on. Next add the cardamom, cloves, whole peppercorns, cumin seeds, cumin seeds and mace, and allow to splutter for some time.
Add the sliced onions and tomatoes and the marinated chicken pieces, rice and some water. Also, add the mint leaves and cilantro and stir.
Check when it is done and serve.
Steamed Chicken Kebab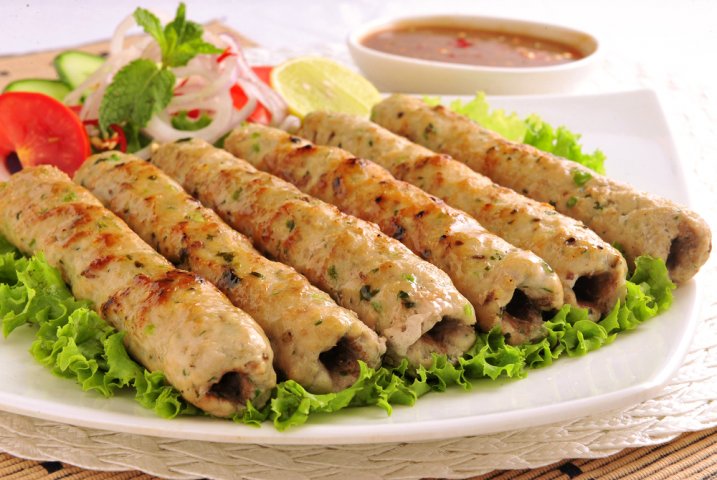 Steamed chicken kebabs are ideal for any party, and many of us find it difficult to prepare at home. You will only need a rice cooker to prepare this unique delicacy. The recipe is light and with low fat that allows you to take care of the number of calories you have.
Ingredients:
400 grams chicken mince
2 spoons black pepper, crushed
2 spoons ginger-green chilli, coarsely pounded
3 spoons cashews-almonds, coarse
1 spoon lime juice
Mint leaves, chopped
Salt, as needed
Recipe:
First, you take the minced chicken in a bowl, add all the ingredients and mix well.
Next, you roll them in a cylindrical shape.
The rolls must be wrapped in silver foil, and the ends must be twisted.
The rolls must be refrigerated for at least 2-3 hours.
The kebabs must be placed in the rice cooker for around 25 minutes in a rice cooker.
You can unwrap them when it cools suddenly.
You may serve it after dipping in a sauce of your choice.
Rice Cooker Recipes - International style
Rice Cooker Chicken Mushroom and Rice
You can make a few non-veg rice dishes too using your rice cooker. You can have some fluffy rice with mushroom and chicken that is wonderful as a weekend lunch. The chicken and mushroom can be marinated with the sauces available at home.
Ingredients:
1-kilo chicken
4 cups white rice
2 Chinese sausages
10 large dehydrated shiitake mushrooms
5 cloves of garlic, finely chopped
5 slices ginger, cut as strips
Fried onion, optional
Chopped spring onion
Chicken Marination:
1 spoon vegetable oil
2 spoons dark soy sauce
2 spoons potato starch
1 spoon sesame oil
3 spoons oyster sauce
1 spoon sugar
1 spoon salt
1 spoon chicken bouillon powder
Pepper, as needed
Mushroom Marination:
1 spoon vegetable oil
1 spoon sesame oil
1 spoon potato starch
1 spoon oyster sauce
½ spoon sugar
½ spoon salt
½ spoon chicken bouillon powder
Pepper, as needed
Recipe:
You have to soak the dehydrated mushrooms in cold water overnight.
The rice grain must be washed and then dripped dry to clean them. Pour some oil on the rice and mix well.
The water must be squeezed out of the mushroom and kept aside.
Remove the stem of the mushroom and slice them. Cut the chicken into pieces.
The chicken and mushroom must be marinated separately for at least 20 minutes.
Heat the pan and dry roast the rice for some time. Put some of the chopped garlic and pout this into a rice cooker.
Also, you must add three cups of water and half a cup of mushroom water and turn on the rice cooker.
Take a pan and add the cooking oil and half the ginger and garlic till brown. Add the mushrooms and stir for some time.
Take the remaining garlic and ginger, add some oil and make it brown. Put the chicken pieces in the pan and cook it thoroughly.
Check the rice and if there is not liquid, put the Chinese sausages.
Make lard by adding the chicken fat in a pot. Heat the pot and let it slowly cook till the oil is released and the fat has browned. Now, add the fried onions and lard to the rice.
Put the chicken and mushrooms on top of the rice. Close the lid and slowly cook for another half an hour.
When it is 15 minutes, take the Chinese sausages and slice them and put the slices back.
Add the spring onions for garnishing.
Mexican Rice
If you wish to give an international flavour to your palate, you can take the help of this recipe. This recipe of Mexican Rice uses a shorter method and uses salsa as an ingredient. It will reduce the preparation time and also add a unique taste to the rice.
Ingredients:
1 cup basmati rice, rinsed
½ spoon cumin
1 spoon coconut oil, optional
2 cups chicken or vegetable stock
1 cup of salsa
¼ spoon salt
¼ spoon chipotle chilli powder
Recipe:
You have to combine the basmati rice along with the other ingredients in the rice cooker base.
You have to cook using the 'white rice' or regular function.
Unique Rice Cooker Recipes to Check Out
Rice Cooker Pasta and Veggies
You may wish to have some unique dishes using the rice cooker. How about some pasta in the rice cooker? Yes, it can also be made, and it tastes just as delicious! You can use this recipe when you are too busy, and it does not take much time to prepare.
Ingredients:
250 grams of pasta
3 tablespoons olive oil
6 garlic cloves
2 medium onions, sliced
Tomato puree, as needed
Salt, for taste
1 spoon red chilli, crushed
1½ spoon, sugar
8-10 basil leaves, fresh
2 scoops of Parmesan cheese, grated
Recipe:
Pour olive oil in the rice cooker and set on cook mode and in it.
Next, crush the garlic and add it. Let it sauté for a minute.
Now, add onions and sauté till they turn light brown.
Next, you must add the tomato puree and sauté it.
Finally, add the pasta along with two cups of water and mix well.
Add the crushed red chillies, dried herbs, salt and sugar and mix well.
Once everything starts boiling, add the parmesan cheese, torn basil leave, and cover the cooker. Cook till it is done.
Rice Cooker Pizza
Your favourite pizza can also be made in a rice cooker. Yes, you can use the ingredients readily available at home for this recipe. You would need to devote some time, though. Let us know the recipe!
Ingredients:
2 cups all-purpose flour
¾ cup of warm water
1 spoon coconut oil
1 spoon brown sugar
1 packet instant yeast
Toppings:
1 button mushroom, sliced
2 spoons natural yoghurt
2 spoon cream cheese
1 tomato, chopped
1 spoon basil leaves
1 spoon olive oil




Recipe:




Making the pizza dough:

First, take ½ cup of water and put instant yeast. Leave to form bubble for five minutes.
Next, add oil and sugar and stir well.
Use a sieve for the flour and knead it to an elastic ball. The dough must be thick to stick to the bowl.
Spread oil around the bowl and put the dough. Brush some more olive oil around the bowl and leave the dough to proof for around an hour.
After proof, gently knead again for roughly two minutes and make two portions of the dough.
You can leave it again to proof for another 15 minutes.




Pizza cooking steps:

Preheat the rice cooker and press the cook button. Put the flatten pizza dough to cook.
Start cooking the dough and check if it is done. Then flip over.
The toppings are to be provided. First add a spoon of cream cheese, mushroom, tomato and green leaves.
Mix the yoghurt with some more of the cream cheese and spread on the ingredients. Also, add the basil leaves.
Now you place the pizza back into the cooker and cook for another ten minutes.
From our editorial team
Savory Delicacies Using a Rice Cooker
From chicken kebab to frittata, learn how to prepare all these delicacies using a rice cooker. Using a rice cooker helps you conserve on time spent cooking and helps reduce the utensils used in the kitchen. Above are some recipes you can try out when using a rice cooker. They are easy to prepare as well. Also, remember to check out the tips to consider when buying or using a rice cooker.