What do women want? As much as it is a cliché, this query continues to be a source of maddening frustration. But truth be told, there are plenty of things that girls do like, and so, buying gifts they will like need not be as tricky as it's made out to be.

What everyone needs is a fail-safe list they can fall back on when they need to buy a gift for a girl in their lives – be it a friend, sister, mother, girlfriend or wife. And that is exactly what we have created. There are plenty of other challenges ahead, like considering her tastes, interests, hobbies and needs, not to mention the occasion the gift is for. However, armed with this list you will be ready to find the perfect gift for any woman in your life and for any occasion.

What Kind of Relationship Do You Have with Her?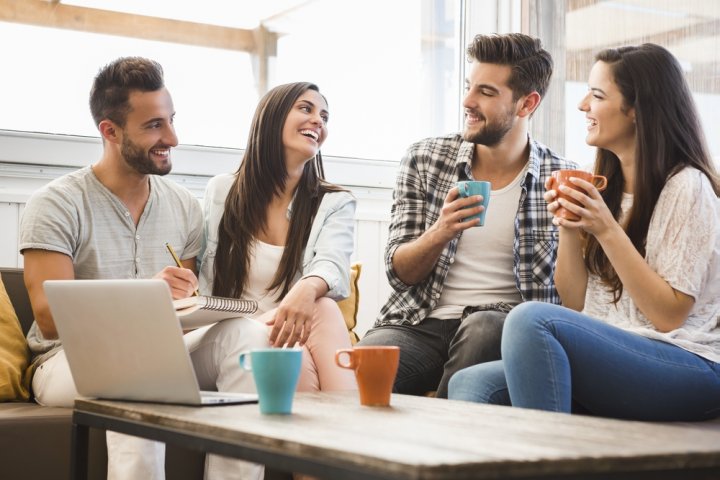 There are a few guidelines to follow when using a general all-purpose gift list like this one. Even before getting into the nitty-gritty of the receiver's preferences you have to give careful thought to the nature of your relationship with this girl. Is she a girlfriend, a colleague, your mom or grandmother?

Is she the kind of friend you wouldn't worry about upsetting with a prank or one you only hang out with occasionally. Is she a girlfriend? How long have you been dating and what kind of commitments have been made? All of these equations have to be considered when looking for a suitable present. Women like jewellery but you will not want to give a heart pendant to a girl who is a buddy - 'one of the guys', or a rhinestone studded leather cuff to your grand mom, or a friendship bracelet to your girlfriend of two years.
How Much You Spend Matters Too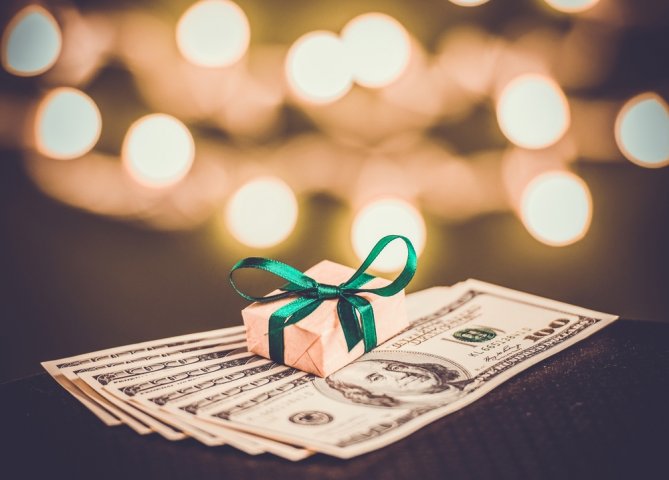 It's always a good idea to have a figure in your head when going gift shopping, even if money is not a concern. Having a range in your head helps narrow down the choices and makes it easier to make a decision. It is also a good guideline for buying an appropriate gift. Like when you are buying something for your colleague, or even a birthday gift for a friend. You may get along with her famously but an expensive gift will send out wrong signals, especially if you are not romantically interested in her.

The more intimate the relationship, the higher your budget can be, although the general rule of thumb is that anniversary gifts are more expensive than birthday gifts. You might want to keep that in mind when booking that exquisite gold necklace for your wife's birthday. Her anniversary present two months later shouldn't pale in comparison.
9 Gifts Any Girl Will Like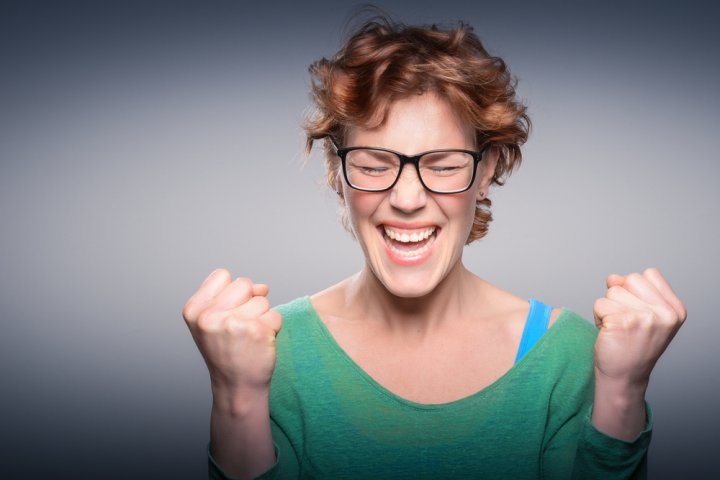 Let's get down to it, but remember, personalisation is key here. Treat this list as broad guidelines to gift shopping for girls and begin your journey on banishing bad gifts.
1. Bling is Always In
Women love jewellery. Their tastes may range from simple to ornate and outright flashy but most women will accessorise with earrings, bangles and cuffs, pendants, bracelets and what have you. The sheer range of variety, material, colour, design and price makes it an ideal gift to be customised to any girl and occasion. You can personalise it, make it as fancy or simple as she likes, break the bank or buy something on a frugal budget.

If you are looking for something out of the box we suggest a locket planter. These bottle lockets containing a living plant by Wonky Works are outrageously cute. If the receiver is environmentally conscience she will love to wear a tiny plant around her neck, that too in a bottle made from upcycled glass. The locket comes with everything needed to grow the plant – mini glass pebbles, a soil mix, activated coconut charcoal and even some moss. The glass bottles are available in clear, opaque and amber colour options. This clear glass locket costs Rs.300.

2. Flower Power
Sure it's an old idea, but do not dismiss flowers just yet. Besides, when we say flowers we mean the entire gamut of flowers, not just the romantic red roses that first popped up in your mind. They have a much wider application and different flowers have symbolic meanings attached to them – love, gratitude, friendship, celebration, grief, youth.

Girls love receiving flowers, there is no question about it. Whether she is a colleague, a friend or a girlfriend, appropriate flowers will make for a lovely gift for all occasions. It can be a careful selection of your wife's favourite flowers as a surprise gift to show how much you appreciate her, a bunch of stargazer lilies to congratulate a colleague on her promotion, yellow roses for a dear friend, or a bunch of pink and white carnations for your mother.

Depending on your budget and the recipient you can opt for an artfully arrangement, a simple bunch tied together with a ribbon or place them in a vase. Another alternative is to gift uncut flowers in a flower pot, such as orchids in a planter as a gift for her home. Do note that flowers will not do as standalone gifts for someone very close to you especially on a special occasion. Your girlfriend will be delighted to be surprised with flowers on your six month anniversary, or when you're having a celebration for her first big gig, but she will be disappointed if you give her only flowers on her birthday.

A fish bowl with a dozen white Asiatic lilies like this one by Ferns N Petals makes a lovely gift for a girl close to you. The online store lists this arrangement at Rs.2,299.
3. Art Decor Candles
Candles are pretty, they are handy in case of a power outage, they can enhance a romantic moment, when scented with soothing aromatics they can help you relax, they are available in a wide range of pretty jars and containers. They really do have multiple applications, and girls like them. A lot. The designs and fragrances available make them suitable to gift to anyone, regardless of the occasion. They even make for good corporate gifts.

Elegant glass jars, traditional motifs, trendy patterns and quirky designs are all suitable for slightly impersonal gifts. You may, of course, give them to your girlfriend as well if you think she will like them. Similarly, fresh scents like lemongrass, lavender, vanilla, orange are all appropriate to give to any girl. For more personal gifts give more thought to the kind of scent she will like - jasmine, rose and opium are suited for intimate gifts. You can even skip these traditional scents entirely and go for the new and popular candles that are scented with food like cake, coffee and even things like bacon, bakery air and candied pecans. Yankee Candles has a huge variety of unusual smells that you can browse on Amazon. A 16 gm jar will cost Rs.2,064.

We also suggest the candles by Maroma, an Auroville based brand. You can pick and choose from red rose, vanilla, oriental orchid, opium flower and lotus amongst others. We like their collection featuring Mithila paintings or Madhubani, traditional rural wall art created by women in Bihar. The hand screen printed designs will be a treat for any girl's home. This Mithila art luminary featuring birds retails at Rs.335. Give her either a single candle, or mix and match to create a set, add accessories or use candles as part of a bigger gift basket.
4. Cute Socks
Girls exult in soft, luxurious things that make them feel warm, cozy and comfortable. Any gift that makes them feel pampered is a great idea, and cushion socks fit the bill perfectly. They are ideal for lounging in. During colder days she can use them to keep her feet warm. Most people hate stepping out from under their warm blankets and stepping onto a cold hard floor. Even if there is a rug below, the cold nip is far from welcome. With fluffy socks she can continue being in her warm, cozy place even after getting out of bed. Find a pair that is made from a breathable material like cotton so she can use them even on warmer days to lounge in or to simply peter around the house in.

There are several options available. You can try these adorable fluffy cushion socks available on bigsmall.in. The fluffy cotton socks will keep her comfy in any weather. You choose from white cat, yellow duck, grey bear and brown monkey. Each pair costs Rs.350 but buy all four together and you get them for Rs.1300.
5. Freeze Frame
There are few things that girls cherish more than their memories and pictures are a wonderful way to record them. There are two ways you could go with this gift idea: if the relationship is such where is will not become awkward to give her pictures, then you can select one or a few pictures and have them beautifully framed for her. You can use pictures of the two of you together from a memorable occasion, pictures of her family, a pet whom she adores, a special occasion like her graduation day picture or her favourite shot of the time she went sky diving - anything that she will like to look at daily. If you have an idea about her personal space or her home, think about where she is likely to place it and find a frame that will suit the place; if you know she already has pictures displayed on a wall, maybe pick up a wall mounted frame that will fit in.

On the other hand if giving a picture will come across as presumptuous or inappropriate, or if you really don't know enough about her to put a picture, just the frame is a good gift on its own. Alternatively you could print a few uplifting quotes or wishes and place that in the frame.

A slightly unusual but very popular picture frame is one you stick on your wall. Like this one in the shape of a tree by UberLyfe, priced at Rs.299. Made of durable PVC, it can be simply peeled off and stuck onto any smooth surface – walls, glass, laptop covers, refrigerators, tiles, etc. It is available in sizes ranging from small (22 x 45 cm) for laptop covers to larger ones to cover a wall (70 x 100 cm). The decal has been tested on Indian walls and can be removed without leaving behind residue. She can use the tree branches to hang up her favourite pictures and create a wall of memories. And each time she looks at it she will be grateful to you for the gift.

6. Keep Her Safe
Concern about a woman's safety will never go unappreciated and every girl will be happy to have a device that makes her feel a tad safer each time she steps out of her home or workplace.

This flash tag works as a reflector which is great for when she is travelling at night or in places without adequate lighting. It is equipped with a whistle and a torch which can be used in an emergency to attract attention. Designed to be clipped onto a purse or handbag, the easy to access torch on it can be very handy even in non-emergency situations.

It is available in red, blue and white and is priced at Rs.163. This is a very useful gift for any girl regardless of her age.

7. Stationery
If you reached this section and rolled your eyes at such a banal suggestion then you have never seen girls buying stationery. Pardon the expression, but they go simply nuts at the sight of pens, notebooks, cards and erasers. If you happen to be at a craft shop and are wonderingly looking over at that calm, bespectacled, elegantly dressed lady in a sari, casually thumbing through the hardbound notebooks, do not be fooled. The years have only mellowed down physical expressions of a little girl's delirious delight at holding coloured markers and craft scissors. The sentiment, however, remains.

There is a whole world waiting to be explored but before you step in, try figuring out which kind of stationery really gets her going. Sure, she will appreciate most gifts of this kind, but if you know she is crazy about pens in different colours, or has been eyeing a set of vintage airmail stationery, or if she loves clipping things, it will be extra useful. Calligraphy pens, charming notebooks, sticky notes in cute shapes, washi tape in pretty patterns, unique pens, delightful pencils, all make for very useful gifts for girls. Another great thing about stationery is you can mix things up and make a very unique gift. It is also fairly easy on the wallet unless you are shelling out on some fancy new gadget. She has enough pencills and rolls of paper to open a shop of her own? Then get her a pen stand or beautiful pen case or box to keep it all in.

The quirky Decision Maker Paper Weight caught our eye and will amuse the girl you give it to. The iron paper weight doubles as a roulette with multiple decision choices listed at its base and a red ball which decides your fate. There is the usual 'yes', 'no', 'maybe', 'buy', 'sell' and some classics like 'ask mom'. She can finally stop tucking important papers and notes under her mobile phone or water bottle and perhaps even use it to make a decision or two. Priced at Rs.899.
8. When in Doubt, There's Always Tea
Women and tea have an old connection. Back in the 1600s when Europe was discovering coffee and tea, coffee houses had a masculine appeal but tea was claimed by women who began brewing it at home. Closer home tea has evolved over centuries to become the chai we know. It wouldn't be far off the mark to say it has timeless appeal. We drink it in winter to keep warm, in the summer to cool us down, it can cheer and it can calm. It is also a good gift for women.

Different types of tea offer calming, soothing and rejuvenating properties. If she is a tea lover with a taste for a specific tea she will be pleased to receive a fresh supply. You can also throw in new flavours and mixes for her to try. Those not so keen on the sweet, milky drink will enjoy floral and herbal blends. Unless you are dealing with the kind of coffee girl who will drink nothing else, most girls will be pleased to receive a pretty box of tea.

We suggest the assorted tea collection by Tea Trunk, 15 pyramid shaped tea bags in a cute tin box priced at Rs.800. The box has six flavours of tea - rose oolong, marigold green tea, saffron kahwa green tea, apple spice black tea, chilli chai black tea and long island green tea. Each bag can be used 2-3 times or infused in a pot for two. It is a wonderful sampler for a tea lover and a good way to introduce someone to the pleasures of tea. She may even love you for just the darling box it comes in!

9. Wrap It Up
A scarf is one of women's favourite accessories because it serves so many needs apart from being just a fashion accessory. Women can't have enough scarves in their wardrobe so don't be put off thinking it is a dull gift. They also appreciate practical gifts and a scarf serves them in the cold, in the heat, protects them from wind and rain, and fulfills a dozen other needs.

When choosing a scarf don't limit yourself to looking for something in an expensive fabric. They are available in wool and silks but you get just as pretty scarves in cottons. It is slightly easier buying a scarf than it is trying to buy clothes because they are so versatile. Keep her taste in mind and look for colours and designs which will go well with a number of outfits.

Literary scarves that has quotes and writing printed on them are very popular. Or you could pick up something like this floral print yellow stole by J Style from Myntra for Rs.395. It is made of cotton and machine washable making maintenance easy. The muted colours and pretty design will go well with Indian and western outfits. There are plenty of floral, geometric, abstract and woven designs to chose from; if in doubt you can pick a solid colour scarf in a tone she likes.

Steer Clear of These!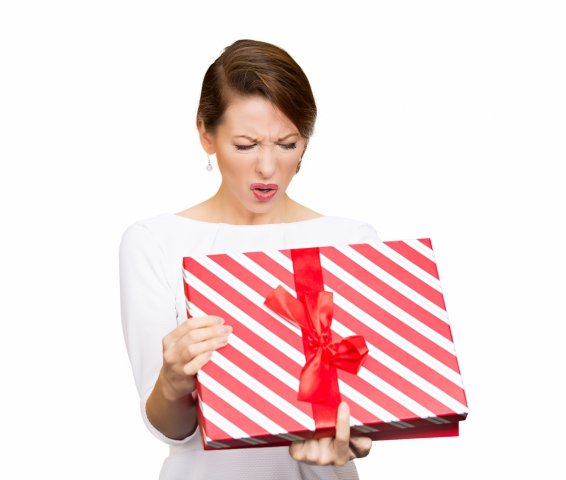 Giving gifts can be a tricky business, you know that if you are here! Giving gifts to girls can be even trickier. There are so many things to be careful about - a close relationship demands you give something appropriate and respectful of that intimacy. An impersonal gift should not overstep the boundaries of your relationship, yet not be viewed as cold and thoughtless. Having gotten that out of the way, lets give you a lowdown of what is absolutely a no no!

Examples of things you absolutely shouldn't consider
Lingerie: do we really need to explain this one? Unless she is your wife or a longtime girlfriend (who wouldn't be offended), this one is strictly off limits.
Clothes: buying clothes that girls will really, truly like is highly unlikely. If you did know her that well, you wouldn't be reading this list in the first place. Girls are very picky about their clothes, it's advisable to knock this one off.
Perfume: it is generally considered a romantic gift so think carefully about the kind of relationship you have with the girl you are shopping for. If she is a friend you may give her the wrong idea.
Gym membership: this one falls in a grey area. She may love it that she can finally go to a gym (if she was having thoughts about shelling out for a membership), or she may think you want her to lose weight and hate you. So that takes it off the list for a near and dear one. And seriously, who gives a gym membership to a colleague or casual friend?
A pet: yes, we know. Movies (the mushy ones with messed up ideas of romance and friendship) make it look like the sweetest thing you could give a girl is a cuddly pup or kitten. Here is a news alert, not all girls like soft cuddly pets. Even if she does like them, maybe she doesn't already have one for a good reason.
Soft toys: same reasons as above. We are not living in an 80s Hindi movie and, unless she is 5 years old, many girls will see it as a strange gift (at best), or a cheesy way to ask them out (at worst).
Gag gifts: save this one for the boys unless it is your intention to buy a gift that will make her mad at you.
From our editorial team
The Middle Ground Works Best
Facing an uncertain situation where you don't know a girl well enough to buy her something she likes, or one where you are at that place in your relationship where you are wary of how she will respond to anything you give her, rein the urge to make up with something very expensive. On the other hand a very cheap gift also looks tacky. Stick to being sensible and err on the side of buying practical gifts rather than those open to confusing interpretations.